Kolmik: Deluxe Edition
Moby ID: 74352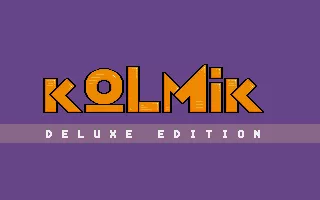 Genre

Perspective

Visual

Gameplay
Business Model

Media Type

Input Devices Supported

Number of Players Supported

[ view all 6 specs ]
Description
Kolmik Deluxe Edition is an extended version of the original Kolmik game, which was bonus minigame in the game Pooz from 2007. The "Deluxe Edition" features the playing mode of the original and is adding another playing mode called "Squared Frenzy", extending the game principle of the original.
In the Classic Kolmik playing mode, the play-field are three lanes filled with differently colored stones. Your goal is to create vertical columns with stones of matching color by shifting one of the three rows left or right by one stone. Removed columns are randomly filled. Each shift costs you two moves. By successfully creating a column, you gain an additional move (you can create more than one column by a shift). Classic Kolmik is a conversion of the game Blix by Nick Kouvaris. In the Squared Frenzy mode a 8x8 board filled with colored stones is presented. You can create a vertical column, but also build horizontal rows are allowed. In this mode, you do not shift complete rows, but exchange two stones next to each other. In this playing mode, the amount of moves after successfully creating a column or row is set to the maximum.
In both modes, no time limit is given and only the amount of leftover moves determinate the game's ending. Points are rewarded for building rows/columns, with a significant bonus if more than one are removed in a single move. There are two difficulty settings "Easy" and "Hard". In the more difficult setting, there are four different colors instead of three and the amount of moves is reduced compared to the easier setting. Separate high-score table for the modes and difficulty settings are available.
Credits (Atari ST version)
8 People
Contribute
Are you familiar with this game? Help document and preserve this entry in video game history!
Contributors to this Entry
Game added by Jo ST.
Game added August 23rd, 2015. Last modified February 22nd, 2023.