Description
Starting Titus' racing series of third-person perspective racing games, Crazy Cars encompasses the American Cross Country Prestige Cars Race. This takes place in several parts of the USA, in several powerful cars. Initially you have a Porsche 911 Turbo in your hands, but this can later be upgraded to a Lamborghini and then a Ferrari. There are other cars on the road, which you must avoid contact with. Bumps and divots in the road throws the car off course, as does contact with any of the roadside barriers. Each race must be completed within the time limit.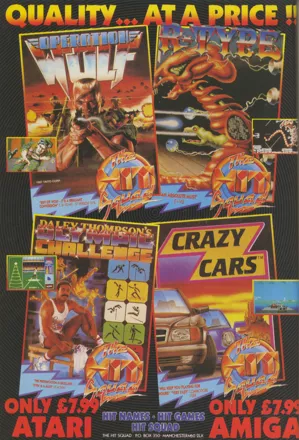 Credits (DOS version)
5 People
Critics
Average score: 62% (based on 9 ratings)
Players
Average score: 2.8 out of 5 (based on 39 ratings with 2 reviews)
The Good
The graphics (what there is) are okay, and the game moves at a decent pace.

The Bad
There have been a lot of corners cut with this game, there are 27 stages in all which take in total about 15 minutes to complete, and they are all EXACTLY THE SAME! The other platform versions of this game had three different levels, this, as the menu states, has just one, New York. You change into a different car (sprite) after each 9 tracks. There is no variation in the gameplay, there is nothing that appears beside the track & there is one kind of competing car. it's just 27 levels of the same background and the same variation of Turn Left, Turn Hard Left, Turn Right, Turn Hard Right, Jump, and passing about 3 cars per level. (Oh and some light hills)

The Bottom Line
This may be called Crazy Cars but the only thing that's crazy about it is you if you play it.
Amstrad CPC · by Sic Coyote (47) · 2007
Simple and fun arcade racing for simple machines.

The Good
Crazy Cars was just enough "spunk" to impress me on a machine with, at the time, not many fast or fun arcade racing games. It starts with with a "hard rock" guitar sample (through the PC speaker, no less) to set the mood, and then throws you right into it. It's simple, this is true; there not much variety if you need it to keep you interested. But once you get going and you discover a couple of tricks, it's actually fun to see just how far you can go.

The Bad
As mentioned before, the lack of varity in scenery and tracks is a bit boring, but can be overlooked if you're in the right frame of mind.
The only real gameplay problem is when you slow down or stop. Cars are behind you, and they whiz past you as you try to regain your former speed. But since they're much faster than you, they hit you from behind without warning, stopping you completely dead again. This gets extremely frustrating very quickly, and some tweaking should have been performed before the game shipped to prevent this a little. Depending on your play style, this can limit the gameplay to "playing a perfect game" or "getting nowhere".

The Bottom Line
A fun arcade racer for 4.77MHz hardware.
DOS · by Trixter (8946) · 2000
Trivia
Cancelled Atari 2600 port
Crazy Cars was ported to every popular computer format of its time, from the underpowered ZX Spectrum to the extremely expensive Mac II, and even the French Thomson computers, but there was one port which was abandoned; Alain Fernandes says in a comment at Grospixels that he at one point worked on an Atari 2600 port.
Contribute
Are you familiar with this game? Help document and preserve this entry in video game history!