See Also
Kaboom! (1997 on Dedicated handheld)
(prices updated 9/29 8:31 AM )
The mad bomber is on the loose! As he races back and forth at the top of the screen, you need to catch the bombs he drops in buckets of water. One point is earned for each bomb caught, but miss one of the bombs, and Kaboom! As the levels progress, the mad bomber will move faster and faster and drop more and more bombs. You start the game with three buckets and lose one each time a bomb is missed. The game ends when all of your water buckets are gone.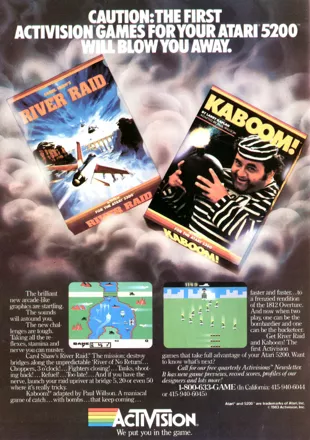 Credits (Atari 2600 version)
| | |
| --- | --- |
| Conceived and designed by | |
| Graphics | |
Critics
Average score: 84% (based on 11 ratings)
Players
Average score: 3.3 out of 5 (based on 54 ratings with 3 reviews)
Brutal, yet addictive gameplay.

The Good
This is the ultimate twitch game. This is all hand-to-eye coordination with magnificent paddle control. You will end each game thinking you could do better next time. Very addictive.

The Bad
The difficulty ramps up very fast, so games as short and sweet. I don't like the mechanic of losing buckets from the bottom first. This just makes it unnecessarily hard as soon as you have failed once.

The Bottom Line
This is a perfect Atari generation game. Graphics are adequate, but gameplay shines through. The mechanics are simple, but very hard to master.
Atari 2600 · by Tantalus (118) · 2009
The Good
Kaboom! is an awesome game. It brings to back to the old days of Atari's finest. basically, there's a guy who drops bombs and you have to catch them or, Kaboom! Think you're fast enough to beat the bomber? Whenever you get better, he gets faster, and faster, and faster!

The Bad
I don't know, I mean it's such a good game. I guess I just don't like that it gets so fast that you can't keep up with the bomber. Like it literally becomes impossible.

The Bottom Line
Kaboom! is one of Atari's classics. It's got great gameplay and great everything. If you like Atari, you should play this game. So, what're you waiting for?
Atari 2600 · by VortexS130 (73) · 2005
One Of Atari's Finest Classics.

The Good
"The Mad Bomber" was one of video game's earliest banes of existence. The fast-action (that continues to get faster with every level), keeps the replayability level high enough to keep players pushing past "just one more level". The graphics are simple, but the animation is charming (splashes of water, the Mad Bomber's expression).

The Bad
There reaches a point to where it's not possible that any sane person could keep up to the level of speed found in the later levels. Despite the many emulations of this game since, none ever quite captures the precision of Atari's paddle controller.

The Bottom Line
This is truly one of Activision's and the Atari 2600's earliest and finest games. The game is quick, fun, and challenging, and its gameplay appeal still holds up as well as it did 20+ years ago. It's been released on every Activision compilation since, and while the lack of a paddle control hinders the overall experience, the quality of its addictive gameplay still holds true. A classic in every possible way.
Atari 2600 · by Guy Chapman (1746) · 2004
Trivia
Competition
Players who were able to rack up 3,000 points or higher were eligible to receive the "The Activision Bucket Brigade" patch from Activision if they sent in a screenshot to the company. If players were ever to reach the maximum point value of 999,999, Activision encouraged people to send in a screenshot to recognize such a "remarkable achievement". Here is a picture of the "The Activision Bucket Brigade" patch at AtariAge.
Awards
Arcade Alley Awards

1982 - Best Audio and Visual Effects

FLUX

Issue #4 - #85 in the "Top 100 Video Games of All-Time" list

Retro Gamer

Issue #46 - #9 in the "Top 25 Atari 2600" Games poll
Information also contributed by Big John WV and PCGamer77
Contribute
Are you familiar with this game? Help document and preserve this entry in video game history!