Vendetta: Curse of Raven's Cry
Released

Credits

Releases by Date (by platform)

Publishers

Developers
Moby Score

n/a

Collected By

12 players
Genre

Perspective

Gameplay

Vehicular

Setting
Official Description
In the darkest corners of the Caribbean, an old evil is rising again.
It's been years since Christopher Raven's family was brutally murdered by Neville "the Devil" Scranton and his bloodthirsty gang, the Devil's Tines. Orphaned and missing a hand, Christopher is rescued by Marcus, an ex-slave and rum-maker who nurses Christopher back to health and takes him under his wing.
Growing up with a black bitterness in his heart, Christopher drowns his demons in rum and violence, brooding endlessly on the revenge that was stolen from him when the Devil's Tines disappeared in the monstrous quake that sunk half of Port Royal. When a string of brutal and all too familiar murders occur, Christopher's chance for revenge is suddenly within his grasp. Neville and the Tines are back, and nothing on earth will stop Christopher from claiming their heads.## CONTENT OF THE DIGITAL DELUXE EDITION
A brand new location waiting to be explored, with additional 60 minutes of playing time
Two exclusive in-game items: the Grim Ripper figurehead and the mighty cutlass "Merciless". Both exclusive in-game items increase the respective abilities of Christopher and his ship when used
The digital Artbook: Enjoy 72 packed pages of original Raven's Cry artwork (PDF Format)
An extended version of the Official Soundtrack (MP3 Format)
All classic pirate songs, including Whisky in a Jar, Hanging Willie aka Drunken Sailor, La Bamba, Da-YO aka Bananaboat Song and more
A digital Songbook including all of the Tavern songs with both the lyrics and the musical notes (PDF Format)
Exclusive Wallpapers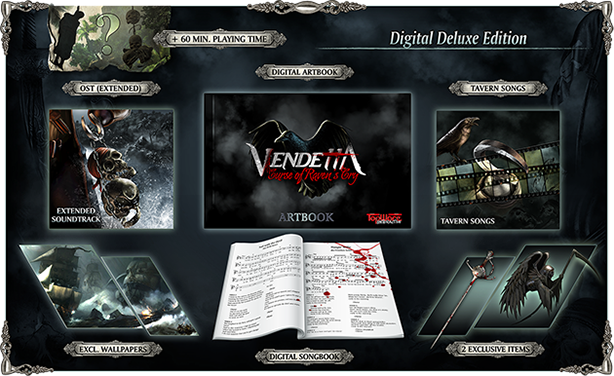 ## GAMEPLAY
Vendetta: Curse of Raven's Cry is a third person, open world action-RPG that combines fast-paced swordplay with thrilling naval battles and exploration. Assume the role of dread pirate Christopher Raven and take your revenge on Captain Neville Scranton and the men who killed your family. Loot, sail, shoot and stab your way through myriad missions and side-quests, and explore the sprawling West Antilles by land or by sea. Hand pick your crew, upgrade your skills and your ship, and gain a reputation for either savagery or mercy, influencing how your friends and foes interact with you. Every choice has a price, and your decisions will bring you closer to your ultimate revenge. Getting there with your soul intact is up to you.## FEATURES
A Brutal World: Dozens of missions and side-quests are spread across the 18th century Caribbean. From white, sandy beaches crawling with deadly wildlife to dark and stormy seas infested with pirates, the world is your battleground.
Know Your Enemy: Hundreds of colorful characters await you; pirate gangs, cannibals, government factions and even ferocious wildlife all stand in your way as you loot, kill and pillage your way across the stunning archipelago.
Fill Your Coffers: An extensive economic system allows you to make your fortune in a variety of ways; search for lost treasure, trade goods in local ports, gamble in taverns or head into the jungles for a hunting expedition.
Only the Strong Survive: Upgrade your skill tree to learn new attacks and combos and use dozens of historically accurate firearms and blades in tandem with your fearsome hook.
Scourge of the Sea: Handpick your crew and set sail. A wide variety of ships can be purchased and upgraded, and different ammunition types allow you to strategically cripple enemy ships for looting, or blast them to the bottom of the ocean.
Every Choice Has a Price: The notoriety system allows you to influence the world around you; earn a reputation for pure brutality as you laugh in the faces of those that come after you, or show mercy while manipulating your enemies and turning them against each other.
Source: Steam Store Description
Credits (Windows version)
153 People (149 developers, 4 thanks) · View all
Developed by

Reality Pump Studios [Kraków; Poland]

Produced and Published by by

Topware Interactive AG [Karlsruhe; Germany]

(c) copyright 2007-2015 by

TopWare Interactive AG
AC Enterprises eK

Creative Director
Executive Producer
Project Coordination
Lead Programmer
Lead 3D Programmer
Programmers
Game Designers
Story
[ full credits ]
Contribute
Are you familiar with this game? Help document and preserve this entry in video game history!
Contributors to this Entry
Game added by Harmony♡.
Game added June 29th, 2017. Last modified February 13th, 2023.