Need for Speed: V-Rally
aka: V-Rally, V-Rally: 97 Championship Edition, V-Rally: Championship Edition
Test your driving skills in this rally game. You can compete in three different game modes: Arcade, Championship and Time Trial. In the Championship mode you race against three other cars in various countries. Gain points in order to win the Championship. In the Arcade mode you still race against three other cars, but also against the clock. Finish each race before the time runs out, and come in first to win the Arcade mode. You can choose between Easy (4 races), Medium (6 races) and Difficult (8 races). If you just want to race by yourself you can try the Time Trial mode.
There are 11 different cars available. They are divided into two groups: 2W and 4W drive. The 4W cars are a little bit faster than the normal cars.
Spellings
Vラリー - Japanese spine title spelling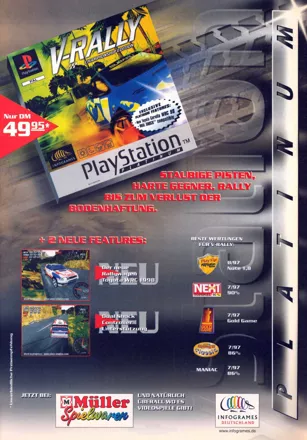 Credits (PlayStation version)
89 People (62 developers, 27 thanks) · View all
An Infogrames Multimedia Production Presented by
Technical Consultant
Co-pilot French Voice
Production
Production Assistants
Legal Advice
Developed by
Game Direction
Game Design
3D Engine Programming
Artificial Intelligence Programming
Collisions Engine Programming
Car Dynamics
System and Special Effects
Co-Pilot, Cameras and Player Information
Tracks Edition Tools
Graphics
Etranges Libellules
[ full credits ]
Trivia
This game was originally published in Europe by Infogrames as V-Rally. Electronic Arts later bought the rights to publish the game in the U.S. and changed the name to fit in with the Need For Speed franchise.
Contribute
Know about this game? Add your expertise to help preserve this entry in video game history!