Nick Peck
Moby ID: 13441
Nick Peck is a composer/keyboardist/sound designer. He began his formal musical studies in piano at age 8, and became a computer fanatic at 13, at the dawn of the personal computer age. At 18, he bought his first portable tape recorder and began recording the world around him. He holds a Master's degree in Electronic Music (Mills College, 1997), as well as Bachelor's degrees in Psychology (UC Berkeley, 1987) and Electronic Music (SF State, 1992).
Nick divides his time equally between sound design for film and games, and a musical life of independent recording and performing. His jazz/funk quartet, Sycamore Park, performs around the San Francisco Bay Area. He has composed, engineered, and/or performed on over a dozen albums, including Ten Ton Chicken's Just Like in the Old Country and De Cocksdorp, and Indian maestro Ali Akbar Khan's Grammy-nominated CD Passing on the Tradition. His CDs are known throughout the world in progressive rock and avant garde electronic circles, and includes Into the Epicenter, Edge of the Sky, Past Present Future, Progfest '94, and Starlight Tales with the group Episode, and Islands in the Stream, Liminality, Testament, Under the Big Tree, EndID and Positive Signal Flow as a solo artist. Nick is a vintage keyboard fanatic, focusing primarily on the Hammond organ.
Nick just completed sound designing the game X-Men: The Official Game. He is currently serving as Audio Director of Z-Axis, an Activision studio, in Foster City, California. Previous positions include Games Sound Supervisor at Skywalker Sound, and Sound Supervisor at Lucasarts Entertainment Company.
Film audio credits include Adaptation, CQ, Being John Malkovich (which he also composed music for), and Vampire Hunter D.
Game audio credits include LEGO Star Wars, From Russia with Love, Vampire: The Masquerade, Star Wars Battlefront, Star Wars Episode III, Secret Weapons Over Normandy, Clone Wars, and Indiana Jones and the Emporer's Tomb.
Nick is a regular contributor to Electronic Musician magazine, and gives lectures on audio production techniques at industry conferences and schools. He is a member of the music faculty at Diablo Valley College in Pleasant Hill, California, and teaches courses on audio production and sound for picture there.
Nick's post-production facility, Perceptive Sound Design, is located in Mill Valley, California. Perceptive is capable of providing a full suite of sound production services, including foley and dialog recording, sound editorial, music production, and film premixing.
Credited on 30 games
Displaying most recent · View all
Grim Fandango: Remastered

(2015, Windows)

Sound Designers
X-Men: Destiny

(2011, Xbox 360)

Cinematic Sound Design / Mixing
Highborn

(2010, iPhone)

Sound Design
Guitar Hero: Van Halen

(2009, Wii)

Audio Director and Mixer
Enemy Territory: Quake Wars

(2008, PlayStation 3)

Audio Director
LEGO Star Wars II: The Original Trilogy

(2006, Game Boy Advance)

Sound Design
LEGO Star Wars II: The Original Trilogy

(2006, Windows)

Sound Design
LEGO Star Wars II: The Original Trilogy

(2006, Nintendo DS)

Sound Design
X-Men: The Official Game

(2006, Xbox 360)

Audio Director/Lead Sound Designer
Star Wars: Empire at War

(2006, Windows)

Special Thanks
Star Wars: Battlefront II

(2005, Windows)

Sound Design
Star Wars: Episode III - Revenge of the Sith

(2005, Xbox)

Games Sound Supervisor
LEGO Star Wars: The Video Game

(2005, Game Boy Advance)

Lead Sound Designer
LEGO Star Wars: The Video Game

(2005, Windows)

Lead Sound Designer
Mercenaries: Playground of Destruction

(2005, PlayStation 2)

Additional Sound Recording
007: From Russia with Love

(2005, PlayStation 2)

Sound Design
Star Wars: Battlefront

(2004, Xbox)

Sound Design
Secret Weapons Over Normandy

(2003, Windows)

Lead Sound Designer
Gladius

(2003, PlayStation 2)

Sound Designers
Indiana Jones and the Emperor's Tomb

(2003, PlayStation 2)

Lead Sound Designer
[ full credits ]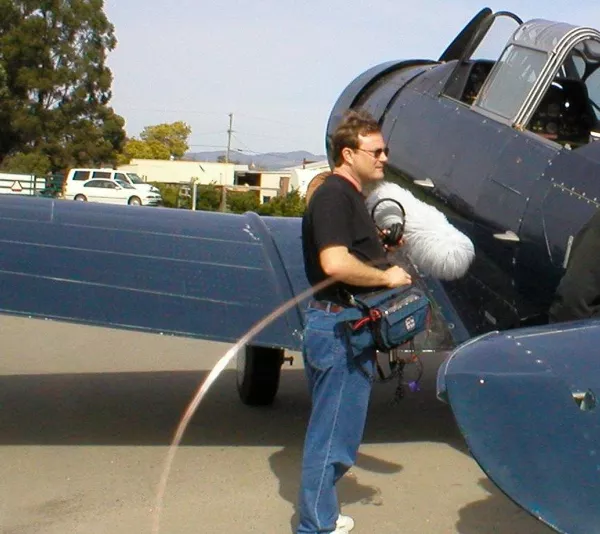 Frequent Collaborators
People
---
Companies
Contribute
Add your expertise to help preserve video game history! You can submit a correction or add the following: