Koji Igarashi
aka: IGA , K. IGA, Kouji Iga, 五十嵐 孝司
Koji Igarashi, also known as IGA, works at Konami and is now the frontman for the Castlevania Series. He joined Konami right after graduating from college. He passed their application exam, but didn't have enough university credits to work there full-time, so he stayed on for another year of school, working at Konami in a part-time capacity. After that, he became a full-time Konami employee in 1990. He first worked as a programmer, on a simulation game under the education software department, but that title was ultimately never released. His first real product that came to market was Detana!! Twinbee for the PC Engine.
In addition to serving as the producer on the PSX Chronicles port, the PS2 Lament of Innocence and Curse of Darkness games, and the GBA games Harmony of Dissonance and Aria of Sorrow, he was also the Assistant Director, Scenario Writer, and a Programmer for Symphony of the Night (his first Castlevania title). He also got a "Special Thanks" at the end of PC Engine Dracula X. He also worked on several shooters, dating sims (Tokimeki Memorial), and his action/adventure experiment Nano Breaker. He asked for a transfer to the Castlevania team after working on the dating sim, as he didn't have any ideas for a sequel.
In 2002, he removed several games from the Castlevania timeline for consistency, including Castlevania Legends, Castlevania 64, Castlevania: Legacy of Darkness, and Castlevania: Circle of the Moon.
15 March, 2014 marked his last day at Konami. Then on 16 September of the same year, he would help found and become the Executive Producer at ArtPlay, Inc.
He is always called IGA at Konami Computer Entertainment Tokyo, hence the nickname in the credits.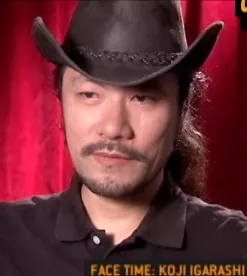 Contribute
Add your expertise to help preserve video game history! You can submit a correction or add the following: