The Italian Job
aka: Braquage à l'Italienne, The Italian Job: L.A. Heist
Moby ID: 10163
Based on the movie remake of the 1969 film, The Italian Job is the story of a gang of thieves who stage the ultimate gold heist of all time. Little do they know that one of their gang members has double-crossed them, taking the gold and leaving them for dead.
As a member of the team, it is your job to stage the next big heist of all time, taking back the gold from your former friend. The game allows you to control a range of vehicles that you must drive to destinations before a certain time limit in order for the plan to work. Of course, the Mini comes into play as you escape from the police.
Apart from the movie based story mode, you can also drive the Mini's through a range of multiplayer modes, including stunt driving and circuit racing.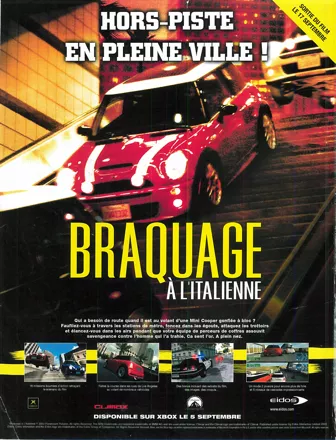 Credits (PlayStation 2 version)
177 People (136 developers, 41 thanks) · View all
Producer
Lead Programmer
Lead Artist
Lead Design
Console Leads
Programmers
Audio Programmer
Senior Vehicle Artist
Vehicle Artists
Environment Artists
[ full credits ]
Critics
Average score: 60% (based on 25 ratings)
Players
Average score: 3.2 out of 5 (based on 24 ratings with 0 reviews)
Be the first to review this game!
Contribute
Are you familiar with this game? Help document and preserve this entry in video game history!