Batman: The Telltale Series - The Enemy Within: Episode Four - What Ails You
aka: Batman: The Telltale Series - The Enemy Within: Episode 4 - What Ails You
Bruce either broke his cover with The Pact to save Catwoman, or he left her to her fate. Either way, Harley dealt with the traitor by condemning him or her to death by freezing in a cryo chamber. Following the events from previous episode, Bruce now needs to stop The Pact in their tracks as they break into a top secret facility and kill everyone on their way in.
It's time for Bruce to step down and Batman to kick in if he were to stop the remaining three bosses of The Pact. Luckily, he's not alone in his endeavors. Teaming up with Catwoman, Batman takes on The Pact head on. Depending on how you built your relationship with John Doe, even he may fight on your side, or at least stay out of your way. While The Pact may have been dealt a crippled blow, Harley managed to get what they came for even if the other two got caught and Weller stepped in to claim the place for The Agency. But it seems Weller has her own ulterior motives that aren't aligned with Batman's, and agent Avesta noticed that as well. Teaming up with Batman, agent Avesta reveals that she knows Bruce's secret identity and it was she who told Weller about it.
Back at Bruce's manor, Alfred cannot keep his ill condition for himself any longer, but it helps that Tiffany joined the team and she looks after him while she stays there. Plus, she came up with some cool new designs for Batman's gear as well as her own sidekick outfit. John, who knows Bruce's secret identity as well, is at the crossroads about their friendship, and tries to pick a fight with Bruce after thinking he doubts his innocence. Best friends or enemies, Bruce can choose by the actions that will determine how their relationship continues.
The episode culminates with Harley threatening to blow up the bridge with all the civilians still trapped in the traffic on it. Under Weller's watchful eye Bruce tried to defuse the situation but it doesn't budge. Entrusting John to try and reason with Harley is an option, but Weller is bent on provoking a chaos, forcing Bruce to choose to support her or remain on John's side. Based on your relationship with John so far, and how events turn out, John's new persona will be born and his mind set. With him jumping off the bridge in the midst of chaos, the episode comes to a close, though it prompts this is by far not the last we saw of him.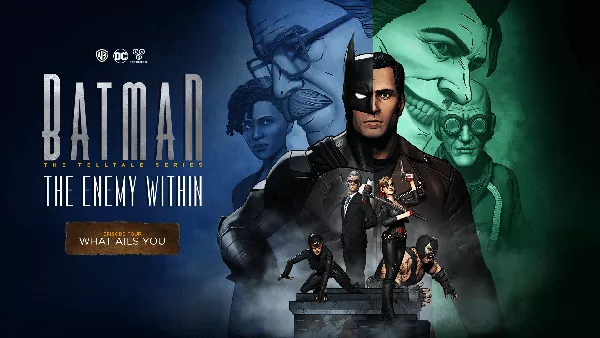 Contribute
Know about this game? Add your expertise to help preserve this entry in video game history!