Gremlins 2: The New Batch
aka: Gremlins 2: La Nueva Generación
Description
As Billy, you set off to rescue Gizmo the Gremlin from Clamp Tower skyscraper, where Dr. Catheter plans to viciously experiment with him. Unfortunately, Catheter gets word of your plans, and mixes up a whole new batch of vicious gremlins. As a result, your mission is now one of destruction and avoidance.
Elite's implementation of this is a five-level side-view action game, in which you run around avoiding or shooting the gremlins. Each level has a secret object which must be collected. Bonus items such as extra lives and time can be collected, as can improved weapons, and credits to spend on a new weapon after each level.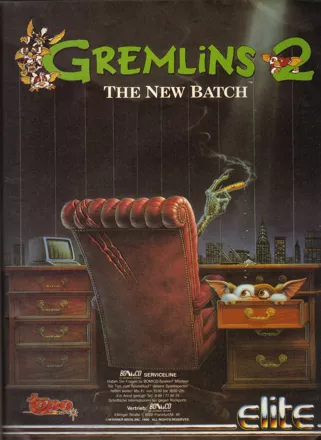 Credits (ZX Spectrum version)
Trivia
Cover
The game uses the official movie poster as cover art. On it, the gremlin hand holding the cigar has four fingers (a thumb is barely visible) - all mogwai and gremlin puppets in the movie have only three fingers, though.
Contribute
Know about this game? Add your expertise to help preserve this entry in video game history!