Black Dahlia
aka: Black Dahlia: A Game of Adventure and Dark Mystery, Black Dahlia: Il Fiore del Male, Black Dahlia: Um Jogo de Aventura e Mistérios Obscuros
Black Dahlia is a suspense thriller based loosely on the unsolved California murder of Elizabeth Short, nicknamed "Black Dahlia" for her favoritism towards black clothing.
Taking place in the 1940s, the game puts the player in control of a rookie government agent, Jim Pearson, whose first case involves investigating Nazi propaganda. The case is not as simple as it sounds, however. Before long, Jim uncovers information and evidence that the Nazis have connections to the supernatural, occultism as well as some very bizarre and ritualistic killings. Jim meets Elizabeth Short who possesses a strange engraved stone known as the "Black Dahlia", an artifact coveted by the Nazis as a source of ultimate power. When her brutal murder occurs, the stone disappears. During Jim's search for the missing item, he uncovers a web of evil, deceit and intrigue. Will he get out alive .. and uncorrupted?
The game is a point-and-click puzzle-solving adventure with live action cutscenes. Full 360 degree horizontal and limited vertical panning allow the player to scan each scene with the mouse. Jim's in-game notebook acts as a journal as it records everything of importance that he has examined.
Black Dahlia has over sixty puzzles dispersed over nearly as many locations. They range in difficulty, style and type including jigsaw, manipulation, code breaking, mazes and object based. Well publicized bypass codes can be used to "auto-solve" them without compromising the game, since no score is kept.
Spellings
凶兆2:黑夜追緝令 - Chinese spelling (traditional)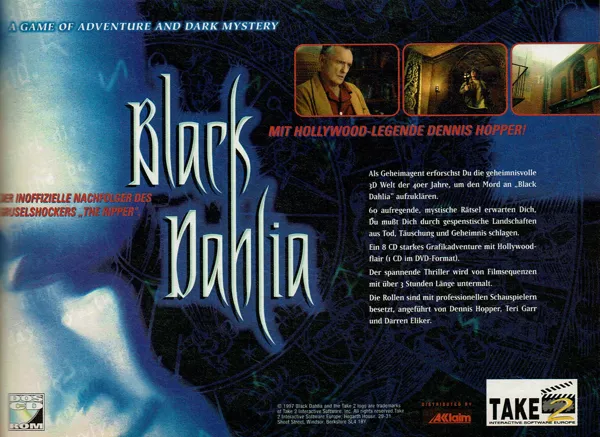 Credits (Windows version)
274 People (261 developers, 13 thanks) · View all
Walter Pensky
Madame Cassandra
Jim Pearson
Running Boy
Bully
William Sullivan
Detective Peter Merylo
Hank Finster
Eddie
Dick Winslow
George Hansen
Louie the Fish
Ernie
Helen Strauss
Delivery Boy
Jones
Bellhop
Maid
Wilhelm von Hess
Nurse Adams
Joseph Muhlhaven
Eliot Ness
Gladys
Alice Casey
Loretta
[ full credits ]
| Subject | User | Date |
| --- | --- | --- |
| DOS | eXo | 2013-05-20 13:09:36 |
Trivia
Hidden movies
Spin around quickly an any direction, you'll see a short video of Jim Pearson
At the Santini home, hold shift when exiting the room after the mother has left and you'll see a short video of Santini's mother and a large firearm.
In ABC's office, when clicking through the files in the file cabinet, click the wrong file 13 times. You get a mini movie of Jim looking at you and saying "Do you have any idea what you are doing?"
Get to the scene where Jim enters the underground wine cellar after finding (and losing) the Dahlia in the German bunker. Go forward towards the steps. There's a wine rack there. Shift-Left-Click on any bottle of wine in the rack and watch the movie.
When you are in your room at Sunset Arms Hotel, click on the phone and then on yourself to hear the line "That's me , Jim Pearson!".
Also in the Sunset Arms Hotel, click on the phone, hold shift and then click on yourself to make a prank call.
References
A brief wink to adventure game fans is firmly embedded in here: Near the end of the game your character enters "Gabe's Diner." Listen carefully to the background conversation between the chef and the waitress... she calls him Gabe and he calls her Gracie... Gabriel and Grace, lead characters of the Gabriel Knight series.
Information also contributed by Itay Shadar
Contribute
Know about this game? Add your expertise to help preserve this entry in video game history!