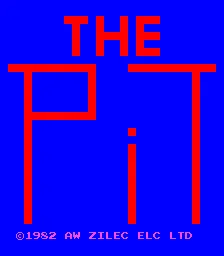 Moby Score

n/a

Collected By

3 players
Genre

Perspective

Visual

Gameplay

Setting
Description
The Pit is an arcade action game where the player controls an astronaut-explorer on an alien planet. The object of this game is to dig down to the bottom pit and collect at least one large jewel and then return to the spaceship through the upper pit.
The game starts with the player's spaceship landing in the top left and an enemy tank and monsters enter from the top right. The player must dig through a series of underground tunnels, while avoiding monsters and falling rocks. When the player reaches the bottom pit, arrows start falling down. After collecting at least one large jewel the player must return to the spaceship.
Players get 3 lives but losing a life essentially starts a new game, as all collected jewels are restored and new tunnels are erased. The area is laid out in such a way that the player must always return through the upper pit which is filled with acid. When entering the upper pit, the orange platform starts collapsing so the player must quickly run across to the exit. The tank in the top right essentially acts as a timer. It shoots through the mountain eventually destroying the spaceship. The player loses a life when the spaceship is destroyed.
The player moves slower when digging through dirt compared to walking through already digged out tunnels. To dig through the dirt the player must be aligned up perfectly, making some moves tricky to perform. This is especially noticeable when trying to move into a sideways tunnel to avoid an enemy, or when exiting the bottom pit. The player can shoot a laser to destroy monsters, but he can only shoot horizontally, he can't shoot up or down.
Credits (Arcade version)
4 People
Trivia
TV Show Reference
The Pit can be seen in the 1984 New Zealand TV series Children of the Dog Star. The main characters play it on an arcade cabinet in the grocery store.
Contribute
Know about this game? Add your expertise to help preserve this entry in video game history!
Contributors to this Entry
Game added by Katakis | カタキス.
Arcade added by BdR.
Additional contributors: BdR.
Last modified February 22nd, 2023.