Vlad Tepes Dracula
aka: Dracula: Le Guerrier des Carpates, Dracula: Reign of Terror , Drácula: El Guerrero de los Cárpatos, Reign of Terror
Description
Vlad Tepes Dracula is a micro-management kingdom simulator similar to the likes of Lords of the Realm. The titular character is the historical 15th century Romanian general Vlad III (also known as "Vlad the Impaler") rather than the better-known fictional vampire character. The objective of the game is fairly straight forward: Recapture the lands taken by the Turkish armies with the help of the remnants of your freedom fighters and rebuild what was lost.
The strategy of the game is to build up your forces while attacking other counties as well as defending your own territories from attack. Most of the gameplay is real-time combat so much of the strategy in the game focuses on tactical combat.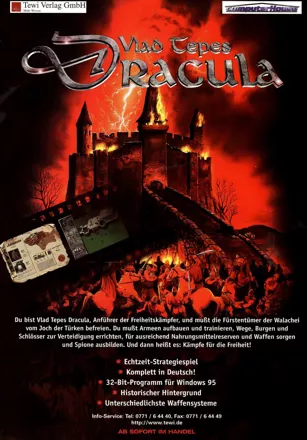 Credits (Windows version)
16 People · View all
Game Design
Project Leader
Art Director
Lead Artist
3D Artwork
Artwork
3D Cinematic Artwork
Lead Programming
Additional Programming
Sound
Music
Executive Producer
Historian
Voices
Screamer
[ full credits ]
Contribute
Know about this game? Add your expertise to help preserve this entry in video game history!