Jinxter
aka: Green Magic
Moby ID: 1291
Aquatania has recently become the land of misfortunes, due to a group of plotting witches. The task of finding five charms and a magic bracelet to put things right falls on you.
And you need a change of luck because events in this game often emphasize the slings and arrows of outrageous fortune. You get hit by a car, fall from a great height, are sprayed with a cheese sandwich, and more! Being the guinea pig in this strange world will drive you insane - if this jinxed land doesn't do it first.
Jinxter is an interactive fiction with graphics title that takes a realistic world of people and situations, and then plays with the boundaries to create a strange and puzzling world. Characters are all getting on with their own tasks, and getting them to help you is usually a case of making sure something's in it for them.
Dialogue aims to add a comic touch to proceedings. Puzzles can often be solved in multiple ways, but the most obvious way is not always the correct one. Due to the presence of a Guardian, you can't actually die.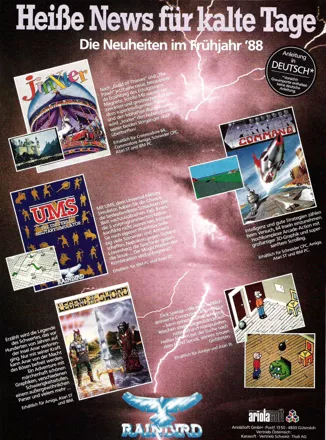 Critics
Average score: 86% (based on 15 ratings)
Players
Average score: 3.0 out of 5 (based on 34 ratings with 0 reviews)
Be the first to review this game!
Trivia
Extras
The game came with a lot of goodies: a beer coaster, a 'Independent Guardian' newspaper (and another translated one in the German version) and an envelope with information.
Awards
Computer Gaming World

November 1996 (15th anniversary issue) – #14 Least Rewarding Ending of All Time
Contribute
Are you familiar with this game? Help document and preserve this entry in video game history!
Contributors to this Entry
Game added by Will D.
Apple II, Acorn 32-bit, Macintosh, Amstrad PCW added by Rola. ZX Spectrum added by Kabushi. Amiga, Amstrad CPC added by Martin Smith. ZX Spectrum Next added by Pseudo_Intellectual. Atari 8-bit added by Terok Nor. Atari ST, Commodore 64 added by Belboz.
Additional contributors: Jeanne, Embit, Pseudo_Intellectual, Patrick Bregger, Jo ST.
Game added April 6th, 2000. Last modified August 31st, 2023.