Released

Credits

Developers
Genre

Perspective

Gameplay

Vehicular

Setting

Narrative
Business Model

Media Type

Multiplayer Options

[ view all 7 specs ]
Official Site
Official Description
Wolfpack is a realistic, first person, co-op U-boat game where one or multiple crews of players man the stations of a highly detailed German type VII U-boat during the Second World War. The crew will encounter large randomized convoys of merchants escorted by destroyers, sloops, and corvettes. Their objective is to intercept and sink enemy ships and escape undetected.
Each player mans a station in the U-boat, and the crew will need to cooperate in order to succeed in their mission. Unlike other submarine simulators, Wolfpack is designed for players to procedurally manage the submarine through direct, manual interaction with valves, levers, and instruments.
Each U-boat has up to five players: The captain, the helmsman, the dive officer, the radio man, and the navigator.
The radio man operates the hydrophone, radio, radio direction finder, and Enigma machine. The helmsman controls the U-boats heading and speed, and operates the torpedo data computer. The dive officer controls the depth using the dive planes, ballast and negative tanks and serves as a lookout and gunner for the deck gun and anti aircraft gun. The navigator calculates the position of the u-boat, and determines the best route to intercept enemy convoys. The captain is the commander of the U-boat, and leads the crew.
All stations and instruments in the U-boat are carefully modeled after original pictures and sources, and kept as realistic as possible without compromising usability. The game contains a fully operational torpedo data computer, manual navigation tools, and ship recognition manual.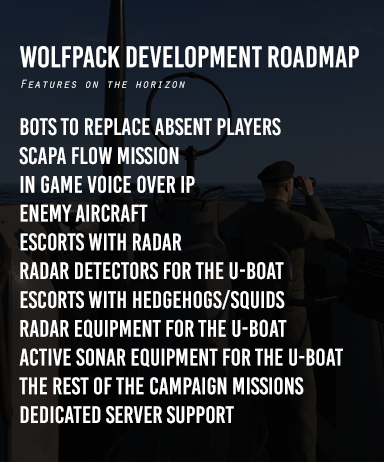 Source: Steam Store Description
Contribute
Are you familiar with this game? Help document and preserve this entry in video game history!
Contributors to this Entry
Game added by piltdown_man.
Game added August 19th, 2019. Last modified April 10th, 2022.