Pure Pinball
aka: Kati Shary!
Pure Pinball contains three different 3D tables with their own themes (Racing, War and Trains) each featuring multiple flippers and special game modes. The game can be played from any of 12 different camera setups (for instance complete overview, ball close-up, ball follow or traditional scrolling style). This has been made possible through use of real-time 3D graphics. The game also features spot-on flipper control featuring a multiball enabled physics engine that calculates the ball movement more than 1500 times per second.
Spellings
Кати шары! - Russian spelling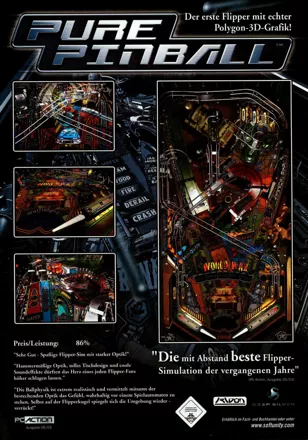 Credits (Windows version)
41 People · View all
President, Publisher
Vice-President, Creative Director
Vice-President, Sales and Marketing
Business Manager
Director of Financial Planning and Analysis
Public Relations
Operations Manager
Art Director
Senior Designer
Marketing Services Manager
Director of Sales and Licensing
Online Manager
The Team at Simon and Schuster Interactive
Game Design
Producer
Lead Programmer
Additional Programming
3D Modelling & Animations
3D Model Designer
Textures & Table Design
[ full credits ]
Contribute
Know about this game? Add your expertise to help preserve this entry in video game history!