In Menzoberranzan the player takes the role of two adventurers (two more can be recruited) who have just returned from a fight against an evil enemy in the Icewind Dale. A drow raid looking for Drizzt attacks the village the adventurers are staying in and takes several villagers as hostages. Now (probably with the help of the captain of the guard) the adventurers will have to rescue the villagers in an epic that spans to the evil city Menzoberranzan itself.
Menzoberranzan is a first-person, party-based role-playing game that utilizes the Advanced Dungeons & Dragons rules for character creation, combat, and other gameplay elements. The game is built upon the same engine that was used in Ravenloft: Strahd's Possession. The combat is done in real-time, performed by choosing attack options and clicking on the enemy, allowing the party to execute the commands. Popular characters Drizzt and Guenhwyvar from the books by R.A. Salvatore can join the party during the quest.
Spellings
メンゾベランザン 闇の紋章 - Japanese spelling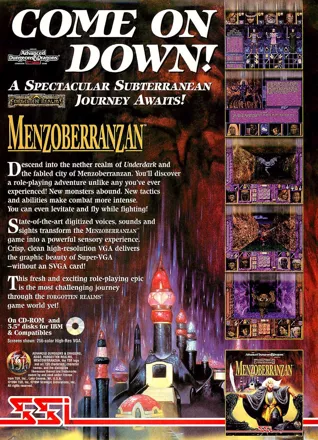 Credits (DOS version)
40 People (36 developers, 4 thanks) · View all
Rule Book Writer, Interaction & Game Text
Executive Producer
Associate Producer, Voice Direction
Lead Programming
Game Design
Art Director
Lead Artist
Artist
3D Artist
3D Support
3D Character Generator
Music
Sound Effects, Voice Production
Producer
Managing Doc. Editor
Rule Book Editors
Lead Product Tester
Testers
[ full credits ]
Trivia
CD Version
Menzoberranzan was released on a CD in 1995. It was several months after the floppy edition. However the player can easily see that CD version is not an enhanced edition but floppy edition was a stripped one. When playing the floppy version the player sometimes can experience clearly visible cuts of some scenes (eg. shorter introduction) or lack of continuity (eg. bartender gives thanks to the team for the dragon fight that did not happen). Some cut scenes also make the floppy edition slightly more difficult (eg. at the beginning of the game, there is a cut scene presenting the assault where the player can see the location of the well - lack of it in the floppy edition makes it more difficult to find).
Cover art
The game box's cover features a painting of famed dark elf Drizzt Do'Urden by artist Jeff Easley, earlier used as the front cover to R. A. Salvatore's 1990 novel Homeland.
Contribute
Know about this game? Add your expertise to help preserve this entry in video game history!