Sub-Terrania
aka: Subterrainia
Description
Aliens have invaded a vital subterranean mining colony. Use light-speed reflexes and total concentration to fly your prototype fighter through impossible caverns rescuing miners and blast those aliens into the darkest pits of space!
The game consists of 10 missions. Each mission takes place in a vast cavern, with interesting weather conditions. You must explore it and complete the mission objectives -- usually collecting sub parts, rescuing trapped miners, or destroying giant, epic bosses. You can also explore the levels, but keep an eye on your fuel gauge and beware the many hazards!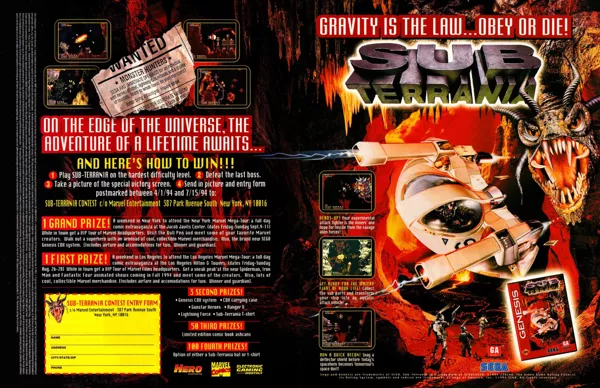 Credits (Genesis version)
34 People (31 developers, 3 thanks) · View all
Programmers
Graphics
Music & Sound
Additional Programming
Producer
Product Manager
Lead Tester
Testers
[ full credits ]
Trivia
1001 Video Games
Sub-Terrania appears in the book 1001 Video Games You Must Play Before You Die by General Editor Tony Mott.
Contest
A contest was held between April to July 1994 for this game. It involved the contestants playing the game on the hardest difficulty setting and after defeating the final boss, they were to take a picture of the victory screen. The prizes included one grand prize winning an all paid for week-end in New York to attend the Marvel Mega-Tour and getting a VIP tour of the Marvel headquarters and also the winner would receive a Sega Genesis CDX system. One first prize winner was to get an all paid for week-end in Los Angeles to attend the Marvel Mega-Tour and getting a VIP tour of the Marvel Films headquarters . Three second place prizes involve the winners receiving a Sega Genesis CDX system with its carrying case, a Sub-Terrania t-shirt, and three games (Gunstar Heroes, Ranger X, and Lightening Force: Quest for the Darkstar). Fifty third place prize winners won limited editions comic book ashcans. A hundred fourth place prize winners won their choice of either a Sub-Terrania hat or t-shirt.
Development hardware
The group that created Sub-Terrania were using their own development hardware instead of Sega-supplied. The code they submitted for final was very stable, but had a number of technical "incorrect read/writes" errors since they "hacked" a lot of their data. In the end, it all got sorted out!
Difficulty level
The game was criticized at release for its difficulty, but the game went through two rounds of difficulty reduction before it was released!
Information also contributed by Tony Van
Contribute
Know about this game? Add your expertise to help preserve this entry in video game history!