The storyline is based on a fictional pilot, Max Chatsworth, being (in-game) one of Britain's Flying Aces. Chatsworth's fame began in battle, when he was out on a reconnaissance mission, and his squadron was decimated by enemy planes. The pilot survived, and in the process shot down seven enemy fighters. He shot down thirteen more the next month. For these actions, Germany offered their Blue Max medal to anyone who could shoot Chatsworth down—and Chatsworth got a new nickname—Blue Max.
As Blue Max, you go out on sorties—flying missions—attacking assigned targets. Targets include bridges, buildings, enemy planes, tanks, bridges, anti-aircraft batteries, vehicles and ships. You progress to new missions as you take out your targets. Various settings can be adjusted before beginning play including control type (normal or pilot), skill level and whether gravity will affect the plane.
You must drop bombs to take out the ground targets, and this action also represents a key danger for you. Unlike the modern bombers that drop bombs on targets far below, early aircraft engaged in semi-suicidal bombing runs. The pilots started at high altitude, then tipped the planes nose downward towards their ground-based target, and pulled up before they hit the ground. In the middle of the dive and pull up process, they released the bomb. There were problems of coordination, found in the game as well—if you time it wrong, or start too low, you will crash. You only have one life in this game.
If your plane is destroyed or you complete a mission a ranking is given which ranges from Kamikaze Trainee to Squadron Leader.
This game has aroused some controversy too, which supposedly caused it to be banned in Germany. In the course of your missions, you end up bombing houses.
(The actual Blue Max/Blauer Max, is a nickname for the Prussian medal 'Pour le Mérite', first given to the pilots Max Immelmann and Oswald Boelcke. It required downing 8-20 enemy planes, with requirements increasing as the war progressed.)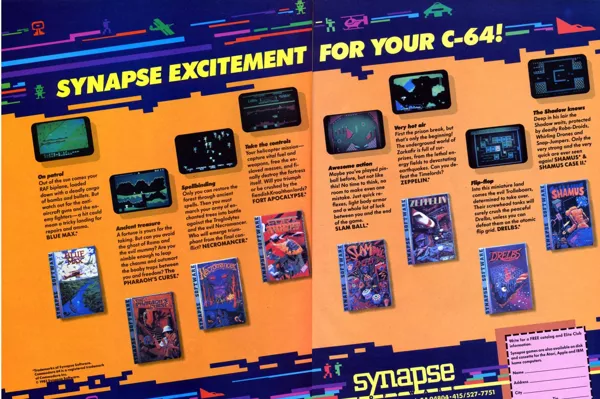 Credits (Atari 8-bit version)
Trivia
German index
On August 31, 1985, Blue Max was put on the infamous German index by the BPjS. More information about what this means can be found in the game group.
Awards
Computer Gaming World

November 1996 (15th anniversary issue) – #142 in the "150 Best Games of All Time" list

Zzap!

May 1985 (Issue 1) - #52 'It's the Zzap! 64 Top 64!'
Contribute
Know about this game? Add your expertise to help preserve this entry in video game history!