Hellfire
aka: Diablo: Hellfire
Hellfire is an add-on to the action RPG Diablo.
It adds two new dungeons to the game: the Demon Crypt and the Festering Nest, both crawling with all-new creatures. The Nest has the appearance of an insect hive and is populated with insectoid monsters and a boss creature called the Defiler. The Crypt is controlled by the demon Na-Krul, a former lieutenant of Diablo who turned on his master and now works on his own.
To master the challenges of the new dungeons, a new character class is available: the Monk can use staff weapons to attack several enemies at the same time and also is an expert at unarmed combat as well as an able spellcaster.
Also added are new spells, items and weapons. New magical items include oils (once applied, they add magical effects to weapons) and runes (they can be set on the ground as booby traps, unleashing magical effects on unsuspecting monsters).
Spellings
暗黑破壞神之煉獄之火 - Traditional Chinese spelling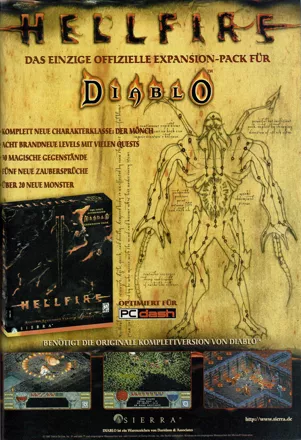 Credits (Windows version)
42 People (32 developers, 10 thanks) · View all
General Manager
Lead Programmer
Programmers
Art Director
Design
Artists
Additional Design
Sound Effects/Mixing
Quality Assurance Lead
Testers
Manual
[ full credits ]
Trivia
Extras
The US release of the game included interviews with some of the programmers for a then yet to be released game called Half-Life. The videos also show some very early beta footage of the game.
Hidden features
Hellfire has two hidden characters you can play as, the Barbarian and the Bard. The barbarian looks exactly like the warrior, but can wield axes as fast as swords, hit multiple enemies with them, and has 0 max magic. The Bard looks exactly like the Rogue, can wield two one handed weapons for more damage. There are also two hidden quests, and different color palettes for the two new areas. To access these, create a command.txt file in the Hellfire directory containing the line
cowquest;theoquest;barbariantest;bardtest;NestArt;CryptArt;
Or you can only include the hidden features you want. Also including the Cow Quest changes Na'Krul's speech with hilarious effects.
Release
Hellfire was marketed by Sierra, not Blizzard, though it was an authorized add-on, unlike a flood of cheat files and editors that was released around that time. Because of that it was not included in the Diablo: Battle Chest compilation.
Information also contributed by Foxhack and Kasey Chang
Related Sites +
Diablo Universe
Blizzard's complete support page for the Diablo series.
Hellfire @ DiabloII.net
One of the most detailed and comprehensive unofficial Hellfire websites on the internet, from the guys at DiabloII.net.
Contribute
Know about this game? Add your expertise to help preserve this entry in video game history!