May 15 1984. In a bar, shortly after a shady deal took place two men enter the bar. They are undercover cops, and once the criminal notices them, he flees the bar, and as his motorcycle skims past town, the pick-up truck used by the undercover cops isn't capable of keeping up when the criminal goes past a fence into an open field. However, while escaping, he left something very important behind. Three days later, someone breaks one of the agents' house. Inside, John and Jackie Ryan are brutally assassinated by an unknown hitman. Their son Jake witnesses everything hidden from the closet in his parent's room.
11 years pass by, and Jake Ryan, living with his grandmother since the incident, joins the Academy and graduates with flying colours. His parents' death turned into a cold case, despite the best attempts by Lyle Jamison, one of John's closest friends and P.I. to bring the criminals into justice. As he is assigned to the local Jackson Beach PD, he learns that stolen National Guard weapons are suspected to be circulating in the area, and one night something catches Jake's eye that might bring him closer to the truth...
Designed by former Police Quest mastermind Jim Walls, Blue Force is an adventure game mostly similar to Walls' previous games with Sierra, where real police procedures are blended into the gameplay. Visually it is also inspired by late SCI engine games, with carefully crafted backgrounds overlayed with video-captured sprites as characters. Interface, however, is different, as the player has the complete inventory on the bottom side of the screen and actions (walk, look talk and use) can be reached using the right button.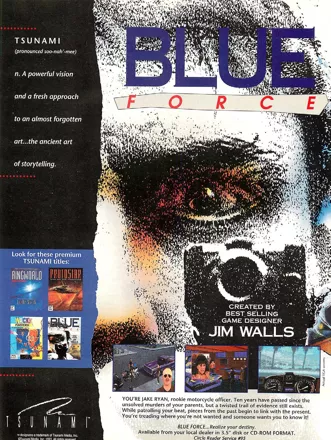 Credits (DOS version)
34 People · View all
Design
Art Director
Additional Design
Game Programming
Video Capture and Clean Up
Computer Animation
Background Layouts
Background Renderings
[ full credits ]
Critics
Average score: 62% (based on 11 ratings)
Players
Average score: 3.3 out of 5 (based on 25 ratings with 4 reviews)
One of the most disappointing games I've played

The Good
Not much.It had decent graphics and it was kind of fun to just work on the beat.

The Bad
When I first saw this game,I was excited as it was made by Jim Walls of the Police Quest fame,one of my favorite series of games.So,I quickly installed the game and to my surprise,it was quite bad.The writing was poor,the music was melodramatic and it has some of the worst cliche ridden storylines I've seen in a long time.There's so much else wrong with the game.The date of your parents death is never known as they say many different days.Sometimes you try to do something you know you have to yet you just can't,and sometimes you can miss a large piece of the plot,and when they explain it later,you have no idea what they're talking about.

The Bottom Line
A terrible adventure that features some very poor writing and some very,very,VERY large plotholes.
DOS · by SamandMax (75) · 2001
From the guy who brought you the Police Quest series

The Good
In the early 90s, a small game company called Tsunami Media produced a series of games. I didn't hear of them until I purchased a game called Blue Force created by California police officer (retired) Jim Walls of Police Quest fame. Jim left Sierra to work with Tsunami.
The story opens when a killer murders happy couple John and Jackie Ryan. Son Jake finds out about their murder and is forced to live with his grandmother who lives by the ocean. Eleven years later, he decides to become a police officer at the Jackson Beach Police Department, in order to find his parent's killer.
While investigating the murders, you have to deal with several situations, including a woman being held hostage by a crazed gunman which is one of the people you have to arrest, along with a drunk driver, and a person who is convicted of processing illegal firearms.
Your old-time friend, Lyle Jamison, assists you in your investigation to find the killer by helping you collect evidence that will help uncover the killer. When Jake once collects some evidence, he has flashbacks of the night his parents were killed.
The gameplay is similar to every Police Quest game, as you have to make arrests while doing an investigation. You perform your actions through a series of icons. Clicking your right-mouse button brings up a police badge that allows you to select only four actions: walk, talk, look, and touch. Your inventory is displayed at the bottom of the screen and you can click the icon with the left or right arrow key to cycle through your inventory. Above these is a counter that awards your points for picking up objects, making an arrest, etc.
Travelling from place to place is done by using your motorcycle. You do this by simply hopping on the cycle, and pressing the button marked "IGNITION" to turn it on. In a few seconds, you get a birds-eye view of the city. You only need to drag the cursor on several buildings until the game identifies them. Clicking the cursor on the identified building travels you to that location. The cycle also comes equipped with a radio, which makes it possible to receive messages from Dispatch telling you that a situation is in progress, and to respond with the appropriate radio codes, discussed in the game's manual.
The graphics are beautifully hand-drawn and all of the actors are digitally inserted in the game. And as for the sound and music, they are average. Either of them can be played on an Adlib, Sound Blaster, and Roland. Even if you can also play music through the PC Speaker (which doesn't produce much sound output), speech cannot be played through it.

The Bad
There is also a CD-ROM version of Blue Force, which I brought ages ago. Along with an interview of Jim Walls and some CD tracks of the game's music, it is basically the floppy version being placed on the CD.
I can't think of something to whinge about, except the map. Instead of the birds-eye view, you could get to fiddle with the bike's controls, stopping at each red traffic light and making the right turns in order to get to your location faster. This is seen in PQ1, PQ1VGA, and PQ3. This feature is missed in Blue Force.
Finally, as Tsunami made the effort to add speech in the installation program when you select a soundcard, what was wrong with adding some speech in the game, particularly in the CD-ROM version?

The Bottom Line
If you like all the Police Quest series, or if you want to practice the techniques used in the game before deciding to become a police officer, Blue Force would be the game for you. ****
DOS · by Katakis | カタキス (43051) · 2003
Good private investigator game.

The Good
I first saw this game at sams club I believe in 1995, basically they sold these packages with 30 games for like 30 bucks, real bargain. I tried Blue Force and it looked like an interesting game, reminded me of police quest slightly. I thought the graphics were very good for it's time, the game felt like real people opposed to Sierra and Lucas Arts having more cartoony games. All characters were digitally scanned. I thought the story was interesting as Jake did the job his father had done his whole life busting criminals and getting punks off the street. I liked the environments and thought the music was catchy though some may disagree.

The Bad
I had the CD-Version, it had some better music but I was hoping it would have speech in the game unfortunately for some reason they didn't, possibly to cut costs. I had wished there were more areas to go in the game and that it were a bit longer, maybe allow you to arrest more people as all the criminals in the game are related in one conspiracy which I thought made somewhat of a bad storyline, I think the only guy not involved in the conspiracy is a drunk you bust.

The Bottom Line
The game revolves around you being a police officer. You are following your fathers dreams who was murdered by a criminal because he stumbled across some disk that contained confidential information that could land him in jail for a long time. You become a cop and find out pretty much everyone you busted is involved in some conspiracy to smuggle illegal arms stolen in a heist. It turns out the guy behind it is also the guy who murdered your parents. That pretty much sums up the game.
DOS · by matt cohen (10) · 2006
Trivia
CD version
The CD version of Blue Force is the same as the floppy one - the difference is that the score is also available as CD tracks, in electronic organ version, and the first audio tracks contains an interview with designer Jim Walls, talking on the similarities and differences between the game and real police work.
Grandma
At one point in the game you're supposed to use your grandma's computer to uncover some information. If you try to do this too early in the game you're fobbed off with a message telling you you can't use the machine now, because your grandmother is defragmenting the hard drive.
Violence
A curiosity: the player is expected to complete this game - a police adventure - without taking a single shot. You can fire shots - at a gunman and to wound Nico "the Snake" - but you receive the highest score only when you complete the whole game without shooting even once.
Awards
Computer Gaming World

November 1996 (15th anniversary issue) – #37 Worst Game of All Time
Information also contributed by Jaromir Krol and mobster lobster
Video Injection
Some Tsunami Media games contained a "Get Injected!" form with instructions on how to get yourself "injected" in the Information Center at the City Hall scene of Blue Force. You had to capture yourself on a VHS tape (the form contained specific instructions on the lightning to be used and how to pose), send that tape to Tsunami Media and they would create the digital files and mail a 3.5" floppy disk back to you, that you could install to the game's directory. This service cost US$ 29.95.
Contribute
Are you familiar with this game? Help document and preserve this entry in video game history!