May 15 1984. In a bar, shortly after a shady deal took place two men enter the bar. They are undercover cops, and once the criminal notices them, he flees the bar, and as his motorcycle skims past town, the pick-up truck used by the undercover cops isn't capable of keeping up when the criminal goes past a fence into an open field. However, while escaping, he left something very important behind. Three days later, someone breaks one of the agents' house. Inside, John and Jackie Ryan are brutally assassinated by an unknown hitman. Their son Jake witnesses everything hidden from the closet in his parent's room.
11 years pass by, and Jake Ryan, living with his grandmother since the incident, joins the Academy and graduates with flying colours. His parents' death turned into a cold case, despite the best attempts by Lyle Jamison, one of John's closest friends and P.I. to bring the criminals into justice. As he is assigned to the local Jackson Beach PD, he learns that stolen National Guard weapons are suspected to be circulating in the area, and one night something catches Jake's eye that might bring him closer to the truth...
Designed by former Police Quest mastermind Jim Walls, Blue Force is an adventure game mostly similar to Walls' previous games with Sierra, where real police procedures are blended into the gameplay. Visually it is also inspired by late SCI engine games, with carefully crafted backgrounds overlayed with video-captured sprites as characters. Interface, however, is different, as the player has the complete inventory on the bottom side of the screen and actions (walk, look talk and use) can be reached using the right button.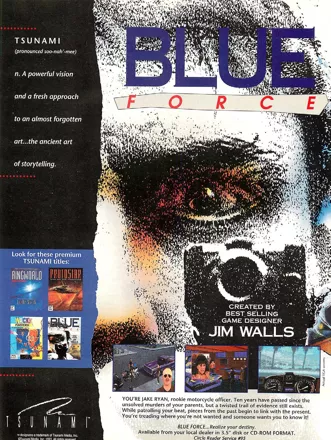 Credits (DOS version)
34 People · View all
Design
Art Director
Additional Design
Game Programming
Video Capture and Clean Up
Computer Animation
Background Layouts
Background Renderings
[ full credits ]
Trivia
CD version
The CD version of Blue Force is the same as the floppy one - the difference is that the score is also available as CD tracks, in electronic organ version, and the first audio tracks contains an interview with designer Jim Walls, talking on the similarities and differences between the game and real police work.
Grandma
At one point in the game you're supposed to use your grandma's computer to uncover some information. If you try to do this too early in the game you're fobbed off with a message telling you you can't use the machine now, because your grandmother is defragmenting the hard drive.
Violence
A curiosity: the player is expected to complete this game - a police adventure - without taking a single shot. You can fire shots - at a gunman and to wound Nico "the Snake" - but you receive the highest score only when you complete the whole game without shooting even once.
Awards
Computer Gaming World

November 1996 (15th anniversary issue) – #37 Worst Game of All Time
Information also contributed by Jaromir Krol and mobster lobster
Video Injection
Some Tsunami Media games contained a "Get Injected!" form with instructions on how to get yourself "injected" in the Information Center at the City Hall scene of Blue Force. You had to capture yourself on a VHS tape (the form contained specific instructions on the lightning to be used and how to pose), send that tape to Tsunami Media and they would create the digital files and mail a 3.5" floppy disk back to you, that you could install to the game's directory. This service cost US$ 29.95.
Contribute
Know about this game? Add your expertise to help preserve this entry in video game history!