Tiger Woods PGA Tour 2005
In this iteration of the Tiger Woods lineage, you can customize your golfer down to the kind of swing to use, strength, putting skill, luck etc, as well as buying accessories and equipment which all affects your game. Create your own courses by spending "Legend Coins" and gain standing amongst the golfing community and impress even Tiger himself.
Putting using the new "Tiger Vision" lets you see how Tiger Woods would play the shot but don't rely on it as even Tiger gets it wrong sometimes. Play against the Hustler, a golfer created by and motion captured by Justin Timberlake.
Spellings
泰格伍兹高尔夫球巡回赛2005 - Chinese spelling (simplified)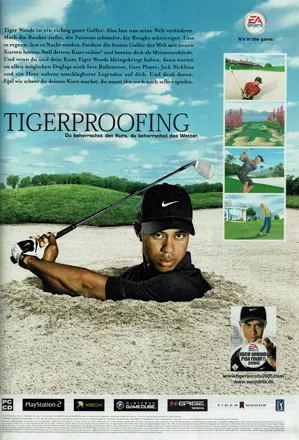 Credits (Windows version)
226 People (190 developers, 36 thanks) · View all
Vice President, Executive Producer
Supervising Producer
Creative Director
Senior Producer
Producer
Lead Game Designer
Director
Art Director
Artist
Engineering Lead
Engineers
Office Manager
Additional Artists
Additional Programming
Testing
[ full credits ]
Trivia
Server shutdown
In early August 2006, EA closed their servers for multiplayer games, for the PS2 and PC versions.
Awards
Computer Gaming World

March 2005 (Issue #249) – Sports Game of the Year

GameSpy

2004 – #4 GameCube Game of the Year
2004 – #6 PC Game of the Year
2004 – PC Sports Game of the Year
2004 – GameCube Sports Game of the Year
Related Sites +
Attain Your Dream 18
An Apple Games article about the Macintosh version of <em>PGA Tour 2005</em> (July, 2005).
Contribute
Know about this game? Add your expertise to help preserve this entry in video game history!