Tiger Woods PGA Tour 2003
aka: TW2003, 泰格伍兹高尔夫球巡回赛2003
(prices updated 9/23 7:15 PM )
Tiger Woods PGA Tour 2003 is the fourth edition in the best-selling golf series.
TG contains over ten PGA tour pros, twelve original golfers, nine PGA Tour golf courses and three fantasy courses, which are completely original.
There are ten different game modes to play, from a stroke game to the actual PGA Tour. You can also go against three other friends in multiplayer.
In the SkillZone area, there are six different mini-games you can attempt, which is purely for fun. Do them yourself or go up against a friend.
The game features a worldwide leaderboard, which tracks stats from you and everybody else who plays the game. Using XBox Live, you can upload your stats and compare them with other players. This feature will last until January 1, 2004.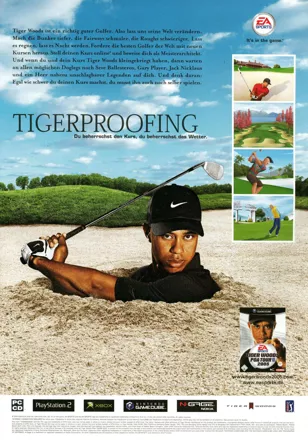 Credits (PlayStation 2 version)
346 People (244 developers, 102 thanks) · View all
Executive Producer
Lead Game Designer
Senior Producer
Director of Development
Lead Architect
Lead Engineers
Technical Art Director
Art Director
Art Manager
Engineering Team
Lead Tools Architect
Lead Audio Architect
Audio Engineering Team
Engineering Project Manager
Engineering Interns
[ full credits ]
Critics
Average score: 86% (based on 26 ratings)
Players
Average score: 2.3 out of 5 (based on 12 ratings with 1 reviews)
The Good
I love the game variety; I mean this isn't like other golf simulators where you only have two or three game variations. I love playing chipping, putting and driving conquests. I really like the 5 difficulty levels each one with their characteristics and making the game challenging. It also contains a Trophy Case where you receive trophies like the "2 eagles in a row" or "40' ' first putt" The sounds are fine, not the best but fine. Now the best point is the graphics, I am talking about the environment, not the golfers. Looking at the sky or at the trees moving by effect of the wind it truly gives me the sense that I am in the place. The golfers are just ok, need more movement work in my opinion.

The Bad
There are a few points that I dislike about this game but...
I believe that the AI isn't at the good level like other aspects on the game, isn't bad but also isn't good, is just mediocre... The challenge still exists because in main tournaments you don't need to see the AI shooting therefore you only see the scores and they are good. This is the main flaw in this game and the only aspect of TW 2003 where I feel that Links 2003 from Microsoft is better.
Another thing that I dislike about this game are that on teams tournament your team-mate always have the worst AI if we compare with the other teams even if he is a famous golfer.

The Bottom Line
On my opinion, TW PGA Tour 2003 is a must-take for anyone that likes golf and a give-it-a-chance for people that just don't knows golf. You never can't know, perhaps you will start liking it.
Windows · by Cabeza2000 (689) · 2003
Trivia
Awards
Computer Games Magazine

March 2003 (No. 148) - #7 Best Game of 2002

GameSpy

2003 – PC Sports Game of the Year
2003 – #4 PC Game of the Year
2003 – #8 Xbox Game of the Year
Contribute
Are you familiar with this game? Help document and preserve this entry in video game history!