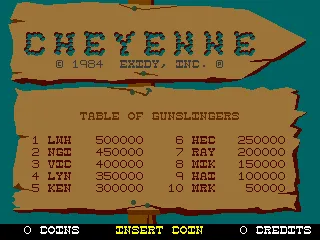 Genre

Perspective

Gameplay

Setting
Input Devices Supported

Number of Offline Players
Description
Cheyenne is a wild west themed light gun game with a mounted wooden rifle and it is similar to Crossbow. The objective in each level is to shoot the outlaws while protecting cowboy Buster Badshot.
The game starts with three selectable levels and the player can freely select in which order to play them. Each level starts with wanted posters showing the gang members to look out for in the level. The gangs include the Dalton Gang, Petticoat Floozies, Apache Braves, Banditos, Saragota Slickers, Bogus Bunch and others.
During the game the player has to protect the cowboy Buster Badshot walking around the level by shooting enemies and targets. These include gunslingers, Indians, bullets, a tomahawk ax, buffaloes, falling rocks, rats, barrels, logs, ghosts, skeletons and more. If the cowboy is hit you lose a life and the game displays "outlaw got away". The level will restart but any gang members already shot remain captured. The gang members will appear randomly during the level same as other enemies, except they flash white to indicate they're the main targets. Shoot all outlaws will display "gang captured".
The locations include a saloon with a piano player, a coal mine with mining carts and lamps, a level in the desert riding a horse and carriage, a level in the woods by a river, a graveyard and more. Some levels contain interactive background elements, in the saloon you can shoot the pianist to temporarily stop the piano music, in the mines you have to keep shooting the hanging lamps or else the level goes dark, slowly to fading to black. The game contains some culturally insensitive content, when you shoot the outlaws the men scream "ow", the women "oh dear", Mexicans say "ay caramba" and native Americans say "pale face".
Credits (Arcade version)
12 People
| | |
| --- | --- |
| Software | |
| Hardware | |
| Graphics | |
| Audio | |
| Support | |
| Art | |
Contribute
Are you familiar with this game? Help document and preserve this entry in video game history!
Contributors to this Entry
Game added by BdR.
Game added December 29th, 2020. Last modified February 22nd, 2023.