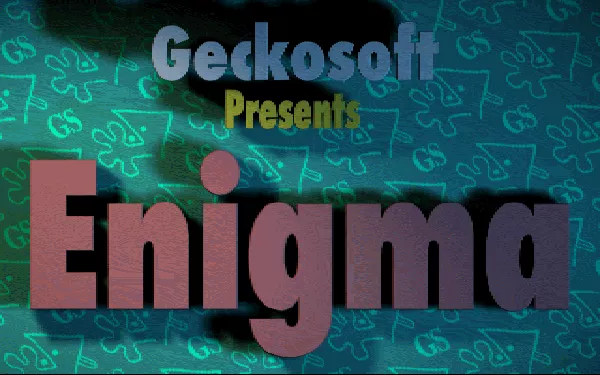 Released

Publishers

Developers
Genre

Perspective

Visual

Gameplay

Interface
Description
Enigma is a Breakout/Arkanoid variant with a few innovative features that make it stand out from the rest of the bunch.
First, while the objective of each level is still to break all blocks on the playing field while taking care to not lose the ball, Enigma complicates this by introducing large numbers of various hazards and hostile creatures/things that rain down from the top of the screen or fall out of destroyed blocks. Contact with these "nasties" (as the game readme puts it) will visibly damage and ultimately destroy the paddle if the player is not careful enough. However, these monsters may be shot down if the player has acquired a gun or missile powerup. Sometimes a block will explode into a shower of debris that are also harmful to the player's paddle.
The second unique feature is the introduction of "warp holes" that randomly appear on the playing field. Any object that gets into the hole, including the ball, will temporarily disappear and then reappear in another random location, adding to the challenge.
Finally, Enigma includes five sub-games, which are activated when the corresponding pick-up is obtained. The game then switches to one of five mini-games. Fist, the player is taken to the "betting screen" that randomly cycles through possible awards that will be given if the player wins the mini-game, like extra lives; and possible losses should the game be lost, including points being subtracted from the player's current score. The player is encouraged to choose the best award/least loss combination. Then brief instructions are shown for the current mini-game. Once it ends the game switches back to the level where the mini-game pickup was acquired.
Enigma was originally marketed as shareware, with the unregistered version allowing to play only 10 levels and two mini-game types, out of 160 levels and five mini-game types in the full game. Registered users would receive activation code to convert the shareware demo to the full version.
Contribute
Know about this game? Add your expertise to help preserve this entry in video game history!
Contributors to this Entry
Game added by MrFlibble.
Game added March 28th, 2021. Last modified February 22nd, 2023.