Description
Orbiter is a space shuttle simulator based on the actual commands and procedures used by NASA. It simulates the experience of launching, landing, and performing the delicate missions required of the NASA astronauts. Random problems such as mechanical failures will arise as you try to complete your mission and return safely. This will test your knowledge about the shuttle and mechanics of space flight.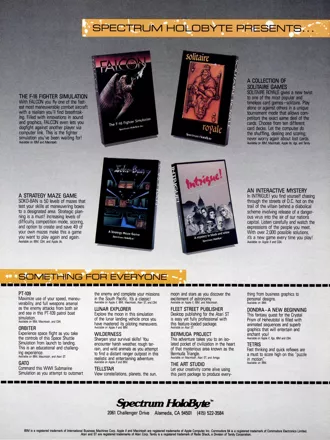 Credits (DOS version)
5 People
| | |
| --- | --- |
| Project Leader | |
| Lead Programming | |
| Programming | |
| Design | |
Trivia
THE FULL TEXT from ORBITER's online help documentation, menu article "about Spectrum HoloByte", not just an excerpt :
First, thanks for purchasing ORBITER. I would like to take this opportunity to provide a bit of background on this product and our company, Spectrum HoloByte, a division of SPHERE, INC.
ORBITER DEVELOPMENT
The initial outline for ORBITER was begun in the Autumn of 1984, with full-time design and coding initiated in July 1985. During the nine-month development period between design and marketing, we amassed a program source code of over 600 single-spaced pages.
We've concentrated on realism in this simulation because of the shuttle's high public visibility and because that is what our GATO users said they wanted to see. Above all, we wanted to create an entertaining vehicle for making the world more aware of what really goes on in a shuttle launch. ORBITER is a simulation, not an arcade game, though we feel it is fun as well as instructional.
Holograms: The ORBITER hologram was done by Light Impressions of Ben Lomond, CA.
Holograms are laser-generated "photographs" taken of solid objects, using mirrors to provide a 360 degree view. Laser-generated holograms require a direct light source to be viewed properly, meaning either sunlight or an incandescent lamp. Fluorescent lights are too diffuse to provide sharp viewing of an image.
The ORBITER hologram, which was placed on the outside of the first 10,000 boxes, is of a ceramic and metal model which was set in isolation on metal mounts and allowed to sit for one week to let the vibrations reach equilibrium with its surroundings. If the object moves 1 millionth of an inch during the 20 minute exposure, the shot must be re-taken.
SPECTRUM HOLOBYTE
We are often asked about the origin of the name "HoloByte." Essentially, it is our word for a computer-generated hologram. We took the name because of our interest in 3-D computer animation and because we intend to come as close to on-screen holography as possible.
For those of you not familiar with us, we were incorporated November 1, 1983 as a computer software publishing company specializing in graphics. While our game, GATO, put us on the map, it has always been our goal to maintain the same high quality in all of our products.
Through the Spectrum HoloByte product line, the company introduced entertainment software products in several new areas: mystery, strategy, relax and enjoy, graphics quest, and arcade-style games. At the same time, Spectrum Holobyte added several games to its traditional line of high quality simulations.
SPHERE, INC. was formed in early 1987 with the merger of Spectrum HoloByte, a company with several years of experience in software publishing, and Nexa Corporation, a highly respected group of software developers. The new company was acquired by Pergamon Press of London, England. SPHERE has a sister software company, Mirrorsoft, in London to assist with the international market. All operations for SPHERE, INC. are now consolidated into new headquarters in the San Francisco Bay Area.
The direction of SPHERE, INC. will be to continue to enhance the Spectrum HoloByte line by producing more top quality simulations (in the tradition of FALCON and PT-109) and other entertainment, productivity and educational products. We remain dedicated to bringing you the best possible software at a good value and prompt, courteous support.
While we can't address every suggestion that is made, we do listen. We've incorporated a lot of the suggestions regarding GATO into ORBITER and FALCON. In case you haven't already guessed, the reason ORBITER is not copy protected is that we listen. While most games are copy protected, we decided to experiment with ORBITER. Thanks for proving that this decision was the right one.
Thanks for "listening."
Phillip G. Adam, President - Spectrum HoloByte Gilman G. Louie, CEO - Spectrum HoloByte
2061 Challenger Drive Alameda, CA 94501 (415)522-3584
Contribute
Know about this game? Add your expertise to help preserve this entry in video game history!
Contributors to this Entry
Game added by Warlock.
Macintosh added by Martin Smith. Atari ST added by Cyborg.
Additional contributors: jean-louis.
Game added June 13th, 2000. Last modified February 22nd, 2023.