Rex Ronan: Experimental Surgeon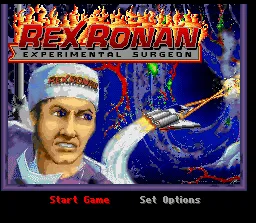 Moby Score

n/a

Collected By

3 players
Genre

Perspective

Gameplay

Educational
Description
This game comes at you with a Fantastic Voyage tale of a microsurgeon miniaturized to a near-microscopic scale in order to enter the body and save the life of a tobacco salesman, ironically laid low by health complications caused by the very cigarettes he sold. Rex must be asking himself, "My parents put a mortgage on their house to put me through eight years of medical school just so I could scrub tar off someone's lungs like a window-washer?" But it gets worse: Big Tobacco, pre-emptively attempting to silence the turnabout whistleblowing revelation they anticipate in the unlikely event of this salesman's recovery, have some shrinking technology of their own, and have introduced sinister nanobots into his body to ensure his -- and Rex's -- untimely demises.
Washing off goo and attempting to survive the robot sprites' poor collision-detection routines comprise the large part of this game (albeit in exotic, well-rendered environments such as The Mouth, The Heart, The Lungs, and eventually The Brain -- where you struggle to clean up regenerating blobs of nicotine addiction); sporadically you also encounter mines which grill you on smoking-related health facts and myths, rewarding correct answers and blowing up when presented with falsehoods. Though the majority of the game plays like a 2D platform shooter, there are also over-the-shoulder 1st-person inter-level sequences where you pilot a futuristic vessel through bronchial tubes and blood vessels like something out of Space Harrier or Tempest -- only with more globs of diseased sputum zooming straight toward you.
Credits (SNES version)
25 People (22 developers, 3 thanks) · View all
Person who wrote the program
Person who directed things
Person who decided things
Smart person who approved things
People who drew pictures
People who helped out
Executive Producer
Producer
Research Coordinators
Research Assistants
Project Manager
Senior Programmer
Artists
[ full credits ]
Contribute
Know about this game? Add your expertise to help preserve this entry in video game history!
Contributors to this Entry
Game added by Pseudo_Intellectual.
Last modified February 22nd, 2023.