Lord Monarch
aka: Lord Monarch: Tokoton Sentō Densetsu
Description
You are prince Alfred, the son of the great king of Monarch. Since you have been a rather fresh and lazy boy, the king decides to strengthen you by sending you to battle. You are now sixteen, and you must prove you are worthy of being the prince of Monarch!
This is a strategy war game. You command an army and can perform various actions, such as sending troops, fortifying your position, allying with another ruler, etc. There are time limits to your strategic operations during which you'll have to defeat the enemy. The Genesis version features animé-style graphics, slightly different interface, and an elaborated storyline that was absent in the original SNES version.
Spellings
ロードモナーク - Japanese spelling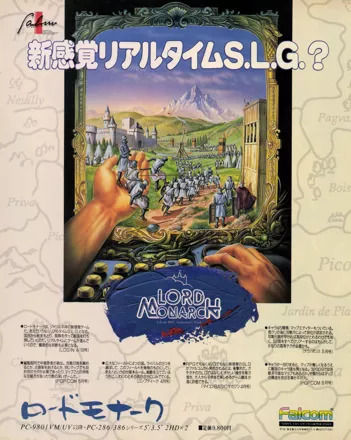 Credits (SNES version)
28 People (25 developers, 3 thanks) · View all
Contribute
Know about this game? Add your expertise to help preserve this entry in video game history!