Dynasty Warriors 5
aka: Shin Sangoku Musou 4, Zhen Sanguo Wushuang 4
The series returns for yet another iteration removing majority of the features included in Empires and Xtreme Legends. The setting is again ancient China. This time there are 48 different characters to choose from in Musou mode. The majority of the 48 characters have to be unlocked and only 6 new characters have been added to the series. Each character has his or her own storyline.
There are more enemies to square up against on screen then any previous game in the series. The game uses the same graphics engine as the previous game. Changed for this edition are the bodyguards: they now do a better job of protecting the player character against the enemies. The stronghold system from Dynasty Warriors 4: Empires has been carried over, enabling players to take over an enemy base by killing its leader.
Spellings
真三国无双4 - Chinese spelling (simplified)
真三国無双4 - Japanese spelling
真三國無雙4 - Taiwanese spelling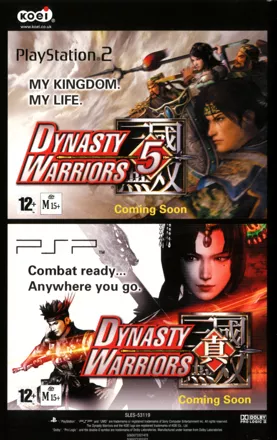 Credits (PlayStation 2 version)
179 People · View all
Trivia
Music
The music played during most of the gameplay with vary. First, each level carries it's own music, but also different tunes will play depending on if the player's side of the conflict is winning or losing (judged by the overall morale of the army).
Contribute
Know about this game? Add your expertise to help preserve this entry in video game history!