As you may guess from the title, Flesh Feast involves zombies. Lots of zombies. The game takes place on an island resort owned by the food corporation NASAT Inc. After an explosion at their main factory, NASAT's "secret ingredient" is accidentally released into the water supply. Soon afterwards the island's population begins to grow sick and die, only to rise again as mindless flesh-eating zombies. The game takes place in three different areas divided into four levels each. In each area you'll take control of a different main character and guide them through the various levels in an attempt to survive the zombie onslaught. Once you complete all three areas the main characters get together for a final showdown at the NASAT factory.
Flesh Feast is a third-person action game which takes place in three-dimensional levels. In each level you will control a main character as well as up to three helpers for a total of four characters. You can control a character directly, or you can give them commands using a strategic mode. Throughout the levels are located a variety of weapons such as golf clubs, chainsaws, and sub-machine guns which you need to arm your characters with in order to fight off the endless horde of undead. Besides the unending army of zombies there are also a few human survivors struggling through each level, and if you save them they'll be able to join you team at the end of the level.
Levels include a graveyard, an airport, a sports complex, a hospital (complete with morgue), and even the shopping mall from Dawn of the Living Dead.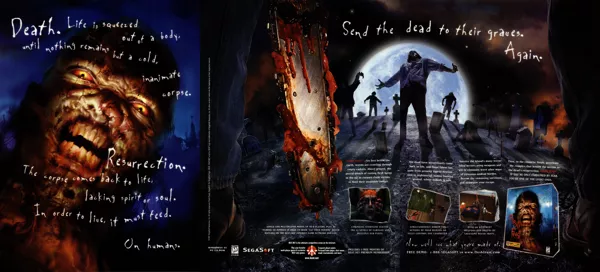 Credits (Windows version)
62 People · View all
Trivia
Extras
The game is kind enough to provide a quick walkthrough which basically tells you the solutions to all the puzzles in the readme.doc file on the CD.
German index
On April 30, 1998, Flesh Feast was put on the infamous German index by the BPjS. More information can be found in the game group.
Contribute
Know about this game? Add your expertise to help preserve this entry in video game history!
Contributors to this Entry
Game added by Alan Chan.
Additional contributors: Patrick Bregger.
Last modified February 22nd, 2023.