Die Höhlenwelt Saga: Der Leuchtende Kristall
aka: Die Höhlenwelt-Saga: Der leuchtende Kristall
After a series of German interactive fiction games (Das Stundenglas, Die Kathedrale, Hexuma), Harald Evers and his Weltenschmiede move on to point-and-click graphic adventures. Die Höhlenwelt Saga embeds a fantasy underworld in a science fiction frame.
Starship pilot Eric "Speedy" MacDoughan traces his lost love, mysterious Maomi, to the barren planet 2S-126 in the Taurus 5 system, to discover that a network of caves leads to a gigantic cave world far beneath the crust - the Höhlenwelt ("cave world"). Down there, flying dragons and humanoid peoples live on a magical-medieval level under the despotic rule of an alien reptile race called Drakken. Eric meets the artificial being Cal (a deja vu for Hexuma players), who sends him to the cave world to retrieve a powerful energy crystal (the Leuchtende Kristall ("glowing crystal") from the game's title). And find Maomi, of course.
Die Höhlenwelt Saga is a pretty straight-forward, inventory-driven point-and-click adventure game. Once Eric befriends a flying dragon named Susi (yes, Susi), he's free to explore the key places on the cave world continent of Veldoor at leisure, though the game's puzzles are strictly linear nevertheless.
The game is entirely in German and was published in Germany only. The CD version of Die Höhlenwelt Saga features voice-overs for the intro and narrator sequences, but character dialogues stay text messages.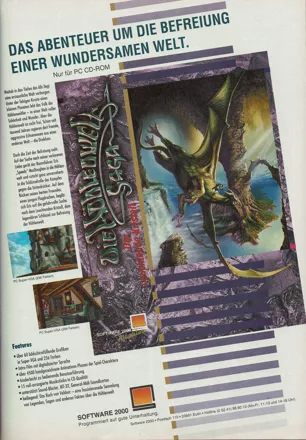 Credits (DOS version)
33 People (24 developers, 9 thanks) · View all
Idea & Storyboard
Programming
Illustrations
Animations
Additional Animations
Additional Graphics
Intro Animations
Music
Sound Effects
Voiceovers
Technical Support and Digital Mastering
"Book of Veldoor" and Manual
"Book of Veldoor" Illustrations
Box Design
Manual Layout
Cover Illustration
[ full credits ]
Trivia
Novels
Die Höhlenwelt Saga accelerated designer Harald Evers' transition from game designer to novel writer. He had already created and published a novelization of one of his former games, Die Kathedrale. In 1995, he began preparations to repeat the feat with a novel based on the Höhlenwelt scenario. The book, Die Bruderschaft von Yoor, was finished in 1997 and initially self-published, until Evers found a publisher (Heyne) in 1998. By then, Evers had taken up writing as a profession, and continued to develop the Höhlenwelt into a fantasy cycle. As of today, the saga has grown to eight volumes, making it one of the biggest and most consistent German fantasy epics.
The novels have little to do with the game, though. Evers shifted the focus of his world considerably, mostly towards magic. The novels' heroine is Leandra, a young sorceress who stumbles into intrigues of enormous scope. The novels are set on an entirely different continent (Akrania), in a different time and have a very different cast; neither Eric nor Maomi or even Cal play a part. A girl named Hellami appears in both the game and the books, though. And the dragons, of course.
Contribute
Know about this game? Add your expertise to help preserve this entry in video game history!