In the 1st Degree
Moby ID: 2035
You take the role of a prosecuting attorney in this legal thriller. Using film of real actors, you must question the witnesses and gather the pre-trial evidence. Then you must take what you have learned into trial and question the witnesses again, this time on the stand and in front of a jury.
The game is entirely from a first person perspective. Your character is never seen. You ask the witnesses questions which plays a pre-recorded video segment, then allowing you to ask a follow-up question, and so forth. Depending on the questions you ask and how you ask them, the witnesses attitude and the way they treat you will change.
After the trial is over the jury returns with the verdict. Will it be Murder in the first degree (pre-meditated), Murder in the second degree (Spontaneous), Manslaughter (Accidental), or Not Guilty? The decision is made by your trial and people skills.
Spellings
殺意の証明 In the 1st Degree - Japanese spelling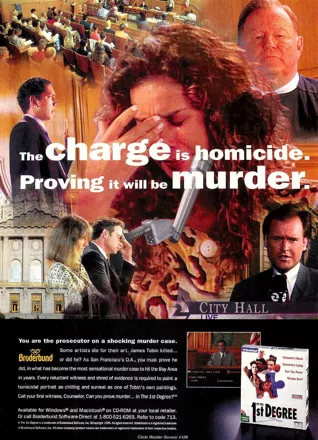 Credits (Windows 3.x version)
169 People (104 developers, 65 thanks) · View all
Director
Concept
Design
Screenplay
Lead Programming
Project Manager
Executive Producer
Music / Sound Programming
Director of Photography
Digital Video Processing Expert
Additional Programming
Background Painter & Palettes
Digital Compositing & Assistant Editor
Assistant Sound Designer
QuickTime Architecture Specialist
MIDI Arrangements
Interactive Scripting Tool Design
Interactive Scripting Tool Programming
Application Programming Consultant
[ full credits ]
Critics
Average score: 60% (based on 13 ratings)
Players
Average score: 3.3 out of 5 (based on 13 ratings with 1 reviews)
The Good
Excellent acting. Amazingly crisp and detailed Full Motion Video. All wrapped up in a clever, convoluted, interesting intelligent plot. One of the few mystery games with actual replay value, as it will take several tries to achieve the optimal ending. Obviously inspired by Law & Order, one of my favortie TV shows. Like that show, it portrays just how difficult it is for prosecuters to get the verdict they want, even if they DO know all the facts!

The Bad
Nothing. It was great fun!

The Bottom Line
1st person perspective and gorgeous FMV immerse you in the role of a District Attorney trying to convict an artist of murdering a gallery owner. In the pre-trial phase, you interview suspects and gather evidence. When you are ready, you go to trial, calling witnesses and cross-examining the defense's witnesses. What you ask suspects/witnesses actually modifies what they will or won't say on the stand. A good mystery and a great courtroom drama.
Windows 3.x · by Bacardi Jim (4) · 2003
Trivia
Novel
In December 1995, the game was adapted into the novel In the 1st Degree: A Novel by Domenic Stansberry.
Related Sites +
Electronic Press Kit (1995)
A 1995 EPK about <em>In the First Degree</em> from Brøderbund Software on the Internet Archive. The press kit includes an elongated trailer followed by an extended "Making of" segment, which draws from interviews with a number of those involved with the production of the game, including the Director, Peter Adair, the Writer, Dominic Stansburry, and a number of the actors, among others.
In The 1st Degree Walkthrough
Posted on The Spoiler Centre by an unknown author, this file provides each and every step to solving In the First Degree.
Walkthrough on IGN
Another complete solution by yet another unknown author.
Contribute
Are you familiar with this game? Help document and preserve this entry in video game history!