Speed Racer in The Challenge of Racer X
aka: Speed Racer in The Challenge of RacerX, Speed Racer no Desafio do Corredor X
Description
This Speed Racer-licensed racing game is based on the American remake of 1960s classic Japanese anime TV series. All the main characters are presented in the game: Speed Racer, his big brother Racer X, his father Pops, his mother, his girlfriend Trixie, and his little brother Spritle along with the pet chimpanzee Chim-Chim.
In the game you are Speed Racer who challenges Racer X on the 7 campaign tracks full of obstacles, road gaps, and other racers who want to take your car (Mach 5) off the road. Mach 5 has many features under the hood, which can be activated with the buttons from 'A' to 'G' (for instance, to make a big jump you press 'A', or to survive under water you press 'D'). After winning the race you'll progress in the game to another episode, collecting money as bonus.
Two players can simultaneously take on each other on the same computer or online via modem. There are different episodes in Modem Play.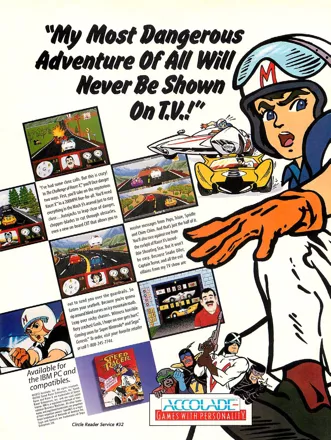 Credits (DOS version)
13 People
| | |
| --- | --- |
| Designer | |
| Producer | |
| Programmer | |
| Track Designer | |
| Lead Artist | |
| Artists | |
| Sound | |
| Music | |
| Testers | |
Trivia
Awards
Computer Gaming World

November 1996 (15th anniversary issue) – #28 Worst Game of All Time
Contribute
Know about this game? Add your expertise to help preserve this entry in video game history!