Harry Potter and the Prisoner of Azkaban
aka: Harry Potter Et Le Prisonnier D'Azkaban, Harry Potter e o Prisioneiro de Azkaban, Harry Potter en de Gevangene van Azakaban, Harry Potter ja Azkabanin vanki, Harry Potter och fången från Azkaban, Harry Potter und der Gefangene von Askaban, Harry Potter y el Prisionero de Azkaban
The PC game based on the third Harry Potter story is, like its counterpart on consoles, a three-dimensional action adventure, but with entirely different challenges and levels.
The player controls both Harry as well as his friends Ron and Hermione, while casting spells, solving puzzles and fighting enemies. Each of the three has one unique spell: Harry can freeze things, Hermione can transform statues into living creatures which can reach areas she can't, and Ron can pull himself over chasms or pull things toward him.
When the three (or sometimes only two) of them are together, the one best suited for the task at hand is automatically selected. If the power of several spells is required for a certain task, the other characters (AI-controlled) join in the casting. Spellcasting is context-sensitive - the correct spell is selected according to the object targeted.
When not engaged in a specific mission, the castle of Hogwarts can be freely explored. Many secrets and smaller tasks await. Scattered all around Hogwarts, usually in hidden areas, are Every Flavour Beans, Pumpkin Pasties and Cauldron Cakes, which function as a sort of currency. They can be traded for Collectors Cards, passwords for portraits that lead to more secret areas, and power-ups.
To finish the game, not only must the main missions be completed, but several side tasks as well. All 80 Collectors Cards must be found, all portrait passwords acquired and several mini-games completed. These include battles against pixies and a magically animated book, and a hippogriff flying course.
Spellings
哈利·波特与阿兹卡班的囚徒 - Simplified Chinese spelling
해리 포터와 아즈카반의 죄수 - Korean spelling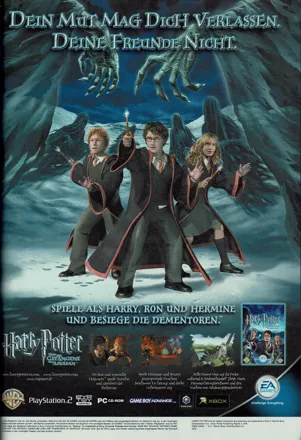 Credits (Windows version)
317 People (249 developers, 68 thanks) · View all
Producer
Development Manager
Lead Game Designer
Lead Animator
Lead Artist
Lead Cinematic Designer
Lead Engineer
Lead Sound Designer
Lead Tester
Cinematic Designers
Artists
Animators
Design & Level Designers
Engineers
[ full credits ]
Contribute
Know about this game? Add your expertise to help preserve this entry in video game history!