Mario Hoops 3 on 3
aka: Mario Basketball: 3 on 3, Mario Slam Basketball, 马里奥篮球3对3
Square and Nintendo reunite for a unique take on the basketball genre in Mario Hoops 3 on 3. Mario Hoops uses almost exclusively the DS stylus to play both offense and defense. Despite having all the moves you would expect from a basketball game the rules are quite different. Instead of 2-3 pointers. You collect coins along the ground which affect your score if you make a basket. Games can get on average up to 300 points.
On the offensive side you can tap the screen to dribble the ball, swipe in your teammates direction to pass, stroke up to dunk, and show your impressive ball handling skills by dribbling the ball in full 360 degrees around your character.
On the defensive side you can do everything from jumping, to stealing, to blocking. The game even allows for goal tending. This isn't your fathers basketball game.
Included in the game is the ability to rise through the ranks in tournament mode, play against your friends in multiplayer one on one, and hone your skills in challenge mode. With over 15 courts, unlockable balls, and more than 18 of the most popular Mario and Square characters.
Playing tournament mode pits you and your team of 3 players up against 3 teams in a battle for the typical Mario style cups. While doing so new characters, courts, and balls will be unlocked all of which you can use in singleplayer or multiplayer.
There are two multiplayer modes. One of which is a race to see who can get 100 points by dribbling. This game is 4 player and supports DS download play. The main multiplayer mode is a 1 on 1 battle. Each player has 3 teammates and battles in two periods to see who can get the most coins.
Spellings
マリオバスケ3on3 - Japanese spelling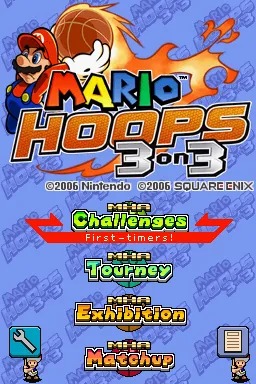 Credits (Nintendo DS version)
81 People (74 developers, 7 thanks) · View all
Director
Planning Assistant
Battle Planning
Animation Design
Character Design
Map Design
Effects & UI Design
Game Programming
System Programming
UI Programming
Sound Programming
Illustration
Music Composition & Arrangement
Sound Editing
Programming Support
Design Support
Graphic Supervisors
Illustration Supervisors
[ full credits ]
Contribute
Know about this game? Add your expertise to help preserve this entry in video game history!