Lethal Xcess: Wings of Death II
Description
After the events of Wings of Death, the once evil sorcerer Sagyr has been reintegrated into society and only does good things with his magic. Unfortunately, one day he stumbles upon a curse which releases an evil witch called Xandrilia. She immediately conquers the world and teleports Sagyr 3 000 years into the future. Using a spaceship, his only hope to free the world is to destroy the planet Metallycha, where Xandrilia's heirs live.
Just like its predecessor, Lethal Xcess is a vertically scrolling shooter. The graphics are less fantasy-oriented than its predecessor, in favour of a combination between high technology and plantlife. Your spaceship no longer morphs according to powerups picked up, but the basic weapon system is still there, only expanded. Eight different weapon systems are now available, each of which can be upgraded multiple times. Other powerups are extra speed, smart bombs and autofire. The skull-shaped "power-down" also rear their ugly heads again.
Technologically, the game has also undergone great upgrades since its predecessor. The playfield is now larger, and up to 150 sprites can be displayed on screen on the Atari ST, more on STE machines. In fact, the game was put out on dual-format disks which boot both on Amigas and Ataris. Another new feature is a simultaneous two-player mode.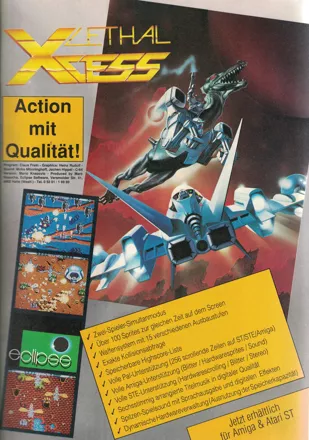 Credits (Amiga version)
26 People (10 developers, 16 thanks) · View all
A game by
Produced by
Copyright MCMXCI
Game Design
Coding
Additional Coding
Graphics
Additional Graphics
Sound
Sampled Voice
Cover Artwork
Copyprotection
Story
Many thanks to
[ full credits ]
Trivia
Incomplete C64 version
A C64 conversion was also underway, from Bonespark, however the company ultimately concluded that the development would take over a year and they could not finance this. Some map graphics from the first level and the game's music survive, and efforts are underway to locate the code which was developed.
Contribute
Know about this game? Add your expertise to help preserve this entry in video game history!
Contributors to this Entry
Game added by Игги Друге.
Additional contributors: Martin Smith.
Last modified February 13th, 2023.