On the Ball
aka: Anstoss, Carton Rouge: League Edition, On the Ball: League Edition
See Also
On the Ball (1990 on Arcade, 1991 on Sharp X68000, 1992 on SNES)
Description
On The Ball is a soccer manager simulation that differentiates itself from the others by its novel emphasis on the psychological aspects of the game. The game gives you, as team manager, full control over not just the strategies but even on what kind of "pep talk" you can give during half-time and PR moves to enhance public perception. Choose the host country, and lead your team from Qualification to World Cup in World Cup Edition and lead your English team to win the championship in League Edition. One of the unique options of the game is possibility to play up to 4 players in turns on one machine.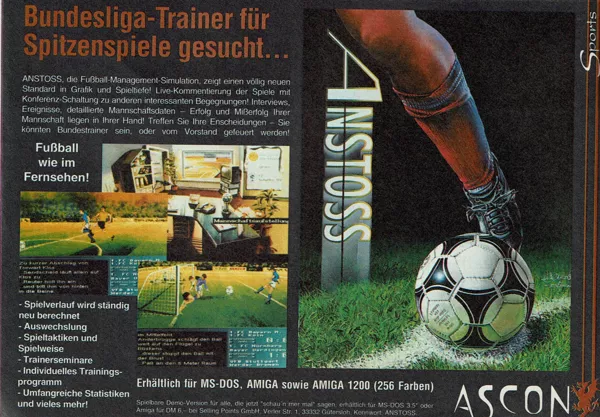 Credits (DOS version)
26 People (25 developers, 1 thanks) · View all
Concept & Game Design
Base Program
Programming
Graphics / Layout
Illustrations
Intro
Graphic Editing
Graphic Conversion
Music
Sound Effects
Tester
[ full credits ]
Critics
Average score: 84% (based on 13 ratings)
Players
Average score: 3.6 out of 5 (based on 12 ratings with 0 reviews)
Be the first to review this game!
Trivia
Bugs
The first releases of this game were so bug-pested that there were more bugs than *working* features. Most subsequent Anstoss games were released in the same state.
Awards
Amiga Joker

Issue 02/1994 – #2 Best Game in 1993 (Readers' Vote)
Issue 02/1994 – Best Sports Game in 1993 (Readers' Vote)

GameStar (Germany)

Issue 12/1999 - #56 and #79 in the "100 Most Important PC Games of the Nineties" ranking
Related Sites +
Anstoss Freak
German Fansite, covering all parts of the "Anstoss" series.
Contribute
Are you familiar with this game? Help document and preserve this entry in video game history!