Mad TV sets you in the role of Archie (though that can be fixed...), an average guy watching some television late at night, when you see a woman you absolutely must meet. The next day, as you wander around the television station looking for her, you run into the boss of Mad TV. Having just fired his executive producer, he hires you. (You're not limited to Mad TV, however; you can also hire yourself in one of the competing stations, Fun TV or Sun TV.)
Your objective in this game is to push your ratings to the top by buying and selling movies and features, choosing the news, and even producing your own shows. You must also earn money by putting in commercials. Be careful, if you don't show commercials by their due date, you'll end up owing, instead of earning. And all this while trying to impress the woman you saw on TV.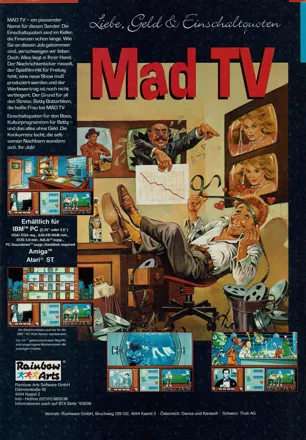 Credits (DOS version)
16 People
| | |
| --- | --- |
| Programming | |
| Graphics | |
| Cover Design | |
| Music | |
| Project Manager | |
| Idea | |
| Programming PC Version | |
| Additional Programming | |
| Sound PC Version | |
| Testing | |
| English Translation | |
| French Translation | |
| Spanish translation | |
| Manual and Cover Design | schaffMEISTER...!; Düsseldorf |
| Cover Artwork | International Top Artists; Dollnstein |
Trivia
Cancelled Atari ST version
A version for the Atari ST was in development, or at least in the planning stages, but it was cancelled very early in the process. The manual of the released versions still has loading instructions and credits for the ST version.
Freeware release
There are some doubts on the GOG.com forums (English and German) whether Mad TV is really freeware, or only its successor is. A news item from PC-WELT seems to settle it though, considering there is also a separate item for the second game. See the Related Web Sites section for a download link.
Information also contributed by Terok Nor.
Contribute
Know about this game? Add your expertise to help preserve this entry in video game history!