Carrier Strike: South Pacific 1942-44
Carrier Strike simulates naval-air battles in the South Pacific during WWII. Carrier Strike can be used to recreate historical battles or random-historical battles (battles that could have happened at a particular time). The Campaign Game allows you to complete one battle and jump immediately into a new battle. Ships sunk or badly damaged in one battle will be unavailable for the next battle. The Campaign Game allows one battle per month from May 1942 to June 1944.
In Carrier Strike you issue movement orders to friendly task forces (TF's) and direct the Flight Operations on your carriers. Flight operations consist of selecting ordnance for bombers; moving aircraft from the hangar to the flight deck; launching aircraft on CAP, search and strike missions; and selecting or changing strike targets.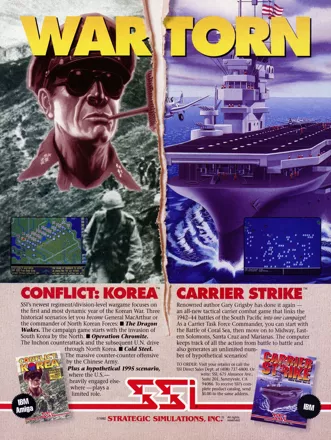 Credits (DOS version)
37 People (36 developers, 1 thanks) · View all
Game Programming
Game Design
Game Development
Rules
Historical Research
Playtesting
[ full credits ]
Contribute
Know about this game? Add your expertise to help preserve this entry in video game history!