Johnny Bazookatone
aka: Johnny Bazooka
Moby ID: 31064
Description
The original guitar hero with the Elvis attitude and purple hair pompadour, Johnny Bazookatone, has been imprisoned in the year 2050 in Sin Sin Prison by El Diablo, the Lord of the Underworld, who is jealous of his talent and kidnaps other musical legends as well in this 3D side-scrolling platformer. Johnny's guitar Anita has been taken from him and he sets out to escape and vanquish foes on his way to be reunited with Anita.
He can perform moves such as 360-degree spin jumps and hover jumps, among others, while using his bazooka guitar as a weapon. When powered up, it can emit a special sonic blast that fries anything within hearing range. As you make your way through the demonic levels such as Hotel Demonique, Hell's Kitchen, and Mr. Diablo's fiery Penthouse, you can acquire more weapons, power-ups and find secret passages that lead to bonus levels. The game's soundtrack includes the title track contributed by Bon Jovi guitarist Richie Sambora and Tico Torres.
Spellings
ジョニー・バズーカ - Japanese spelling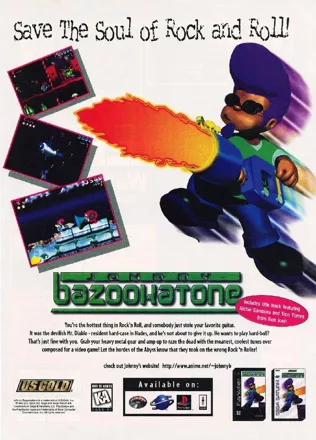 Credits (3DO version)
15 People
| | |
| --- | --- |
| Producer | |
| Team Q A | |
| Team Marketing | |
| Creative Services | |
Critics
Average score: 64% (based on 23 ratings)
Players
Average score: 3.1 out of 5 (based on 7 ratings with 0 reviews)
Be the first to review this game!
Trivia
A UK first
At the time of release Johnny Bazookatone claimed to be the UK's first 32bit platformer.
Development
The developers invested in a high-performance computer to process and handle all of the heavy graphical and 3D modeling demands. The computer was reported to be a Silicon Graphics Challenge system equipped with two CPUs and 512MB of RAM.
It took the art and design team a minimum of eight months to determine how the game could best be designed and presented.
Version differences
Johnny Bazookatone for the PlayStation came in two different case variations. The original long box plastic shelled release of Johnny Bazookatone was by U.S. Gold. When Eidos bought them out, they re-released it in jewel case format with the proper re-workings of the Eidos logo rather than the U.S. Gold one.
Contribute
Are you familiar with this game? Help document and preserve this entry in video game history!