Stunts
aka: 4D Driving, 4D Sports Driving
Moby ID: 329
Stunts (4D Sports Driving outside of US) is a 3D car racing simulation that puts emphasis on the on racing on stunt tracks. The game contains a variety of cars, courses and opponents to choose from (who represent a difficulty level). The game provides unusual stunt objects including loops, corkscrews and jumps. Race tracks contain three types of surfaces: paved road, gravel road and ice. Each of them offer different grip and traction. There is also grass and water that surround roads. The former slows down the car and the latter is lethal and the car instantly crashes. It is possible to watch races in instant replay from different camera angles. A track editor is included as well.
Spellings
4Dドライビング - Japanese spelling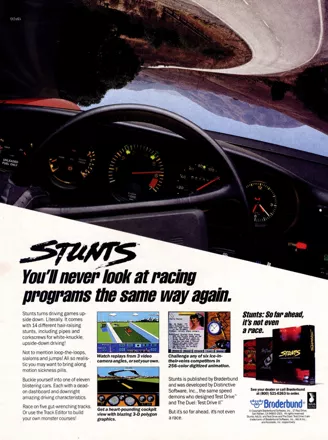 Credits (DOS version)
13 People
| | |
| --- | --- |
| Created by | Distintive Software Inc. - Vancouver B.C. |
| Design | |
| Programming | |
| Technical Support | |
| Art | |
| Music | |
| Sound Fx | |
Critics
Average score: 76% (based on 26 ratings)
Players
Average score: 3.9 out of 5 (based on 127 ratings with 12 reviews)
The Good
Nothing really.

The Bad
Horrible controls, bad graphics (even for the time), lackluster music and sound effects and after a while you get the desire to hit the screen with your dad's hammer.

The Bottom Line
Just an old-fashioned crappy car sim.
DOS · by Tomer Gabel (4539) · 1999
The Good
Stunt represented a new advance in racing games. It has a lot of cars to choose from, different types of adversaries and, the best of all, an excellent track editor. In the times of the BBS's, before the Internet, it was very common to download and exchange tracks for this game. The editor was very easy to understand, too. It would be interesting to see a Windows 9x/NT version of this game, with improved graphics, and obviously, with the track editor.

The Bad
The enemies seem to drive very perfect, even the easier ones. This is a thing that happens in almost every driving game. They tend to drive in turns very perfect.

The Bottom Line
An innovative game, that I would like to see in a newer version.
DOS · by Emepol (212) · 2002
Not terribly realistic, but fun all the same.

The Good
If Stunt Driver was about realism, Stunts was about arcade racing fun. Sometimes you just want to fly around a track, make a massive jump, land without a scratch, and tear off into the next bend. Stunts fit this bill nicely.
The track editor extended the life of the game. Got the top score in all the tracks? Bulid a new one! This was half the fun, though; Stunts was a buggy game, and you could build a track that, when properly exploited, would unleash some bizarre racing behavior. I've made a massive jump, crashed into something, and flown almost a mile high into the air.

The Bad
Like all DSI games, control was digital, even if you were using an analog joystick. (I go into why this is a really, really bad thing in my review for Test Drive.)
Sometimes the bugs in the game bit you in the ass when you were playing normally. They didn't seem so funny then.
There's no multiplayer support. This wasn't common for 1990, but Stunt Driver had it, and Stunts didn't.

The Bottom Line
Yes, it's a cheesy game and hardly realistic, but it's still fun to play. So fun, in fact, that there are still several Stunts fan pages around today.
DOS · by Trixter (8946) · 1999
Trivia
Okay, try this in real life: Drive real fast down a long, straight road, then do a huge jump, get airborne, and then (while in the air) slam on the brakes to slow down in time to make it around that nasty corner. Is it going to work? Nope, but it works in Stunts! ;-) Of course, this just makes the game more fun! :-)
Contribute
Are you familiar with this game? Help document and preserve this entry in video game history!