Dementium: The Ward
aka: Dementium, Dementium: Heisa Byōtō, Dementium: L'Asile
Description
Lying atop a gurney, you are pushed down a hospital hallway as horrific scenes play out around you. Later you wake up in a hospital room alone. Walking down the bloodstained hallway, you find that zombies have taken over.
Dementium: The Ward is a horror-themed first person shooter for the DS. Following the survival horror mold, you collect guns and ammunition moving from floor to floor in a desperate attempt to escape.
Spellings
Dementium~閉鎖病棟~ - Japanese spelling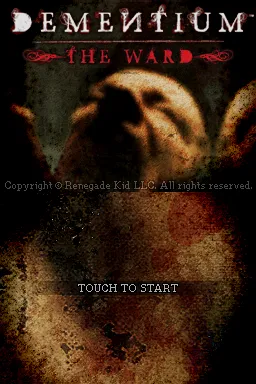 Credits (Nintendo DS version)
42 People (31 developers, 11 thanks) · View all
Game Director
Producer
Art Director
Technical Director
Game and Level Design
Environment Art
Engine, Game and Tools Programming
Music Composition
Audio Effects
Character Artists
Animators
Interface Art
[ full credits ]
Trivia
Version differences
The US release of Dementium: The Ward gained a lot of criticism for its save system. The game could only be saved at the start of each level, meaning if the player's character died, it could result in a loss of up to an hour's progress. This was addressed for the Japanese and UK releases, when save points were added to each level. Changes were also made so that enemies did not respawn whenever the player entered a previously visited room.
Whisper
If you play backwards the eerie whisper heard at the beginning of the game, when the gurney is strolled through the asylum, you'll hear that the voice repeats "I am whispering now". Quite... appropriate.
Information also contributed by hydra9
Contribute
Know about this game? Add your expertise to help preserve this entry in video game history!