Tenchu: Stealth Assassins
aka: Rittai Ninja Katsugeki Tenchū, Rittai Ninja Katsugeki Tenchū: Shinobi-Gaisen
It is 16th century Japan and you are one of two ninja employed by Lord Gohda, an uniquely compassionate samurai lord. As either Rikimaru or Ayame, you must proceed through your assigned quests, at first dispatching the amoral and unsavory folk in your lord's domain. As the game progresses, you will come face to face with greater threats from tengu goblins and oni demons.
A full 3D game in the Tomb Raider spirit, Tenchu focuses on stealth and attacking unseen over straight action. Not being spotted leads to higher scores and better equipment. To aid in this, you can not only creep about and hug walls, but also use your grappling hook.
Scenery is diverse, from Japanese castles to mountain retreats, each with their own types of opponents and soundtrack. Game engine cutscenes push the story forward, which various slightly for each of the two ninja.
Spellings
天诛 - Chinese spelling (simplified)
立体忍者活劇 天誅 - Japanese spelling
立体忍者活劇 天誅 忍凱旋 - Japanese re-release spelling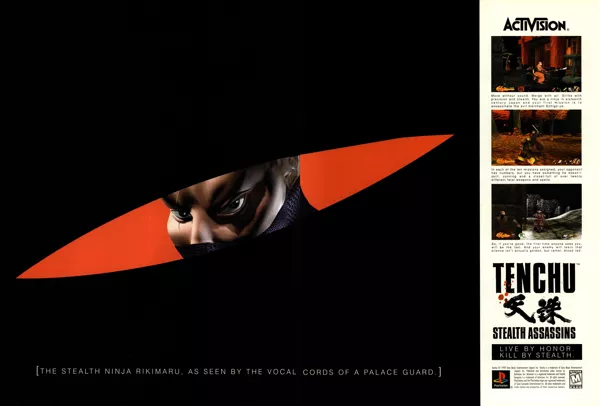 Credits (PlayStation version)
137 People (118 developers, 19 thanks) · View all
Director
Product Supervisor
Producer
Director and Creative Consultant
Translation and Dialogue
Quality Assurance Project Lead
Quality Assurance Sr. Project Lead
V.P. of Quality Assurance
Quality Assurance Manager
Testers
Director of Product Marketing
Product Manager
Senior Publicist
Creative Directors
Designer
Documentation
Executive Producers
[ full credits ]
Trivia
German Index
Although originally rated "Ages 16 and up", on March 31, 1999 Tenchu was put on the infamous German index by the BPjS (as published in BAnz. Nr. 62 - Liste A). For more information about what this means and to see a list of games sharing the same fate, take a look at: BPjS/BPjM indexed games.
Involvement of Sho Kosugi
Japanese actor and martial artist Sho Kosugi is responsible for the main character Rikimarus motion capture, as well as providing all of his Japanese voice work. His son Kane Kosugi was also involved, but as to which capacity, official accounts vary: Shos official bio states that Kane provided the motion capture for the second main character Ayame, although in the games closing credits, he is only credited with providing the motion capture for the antagonist character Onikage.
While this fact is virtually unknown in the west - other than for astute readers of the games credits - it was heavily promoted in its native Japan, going so far as to even include a pretty rare "Making Of"-CD with snippets of the motion capture sessions as a special bonus to people who pre-ordered the original Japanese release in early 1998.
Awards
Tenchu: Stealth Assassins was voted #54 in the Top 100 Games of All Time poll published by Game Informer Magazine (Issue 100, August 2001).
Pirate release
Before the U.S. (text and voices in English) version was released, there were some pirate copies of the Japanese version circulating with the title 'Ninja Condemned By God' printed on the booklet cover. There are some differences between the U.S. and Japanese versions; one example is the animated sequence for the first boss and his bodyguard.
Contribute
Know about this game? Add your expertise to help preserve this entry in video game history!