X-Men: Children of the Atom
(prices updated 9/23 12:36 PM )
X-Men: Children of the Atom is a 2D fighting game and the first Capcom title to use licensed characters from the Marvel comic universe. It has six main characters and four of their enemies that are playable. The X-Men are Colossus, Cyclops, Iceman, Psylocke, Storm and Wolverine. The villains are Omega Red, Sentinel, Silver Samurai and Spiral. The two main bosses are Juggernaut and Magneto, and Akuma is available as a secret character.
Fighting is done one-on-one with a traditional best-two-out-of-three match setup, with automatic or manual blocking. Similar to the Super Combo gauge in Super Street Fighter II Turbo there is an X-Power gauge of different levels, filled up when the player performs moves. When it is maxed out an X-Ability or Hyper X special move can be performed. Other general features are the abilities to super jump, roll away and aiming projectiles.
Spellings
エックス・メン チルドレン・オブ・ジ・アトム - Japanese spelling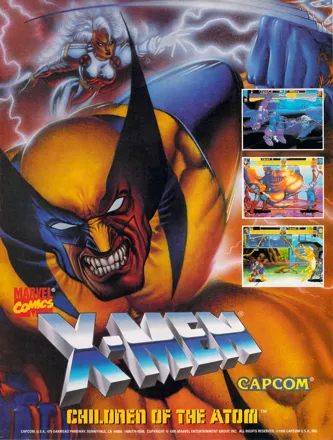 Credits (Arcade version)
76 People (65 developers, 11 thanks) · View all
Critics
Average score: 75% (based on 33 ratings)
Players
Average score: 4.3 out of 5 (based on 31 ratings with 1 reviews)
Capcom takes on the X-Men and a new era of ass-kicking 2D fighters dawns

The Good
Children of the atom marks the beginning of Capcom's and Marvel's fruitful relationship that would end up (in typical Capcom fashion) with a shit-load of almost identical products that somehow manage to get progressively better and rake up millions of sales for the big C.
Anyway, this first game is a typical Capcom one-on-one fighter that uses as it's basis the X-Men comic-book universe. However, due to a clever design that emphasizes super-hero like powers and over-the-top abilities, the game really manages to stand out and become another groundbreaking title in the genre. The premise is simple really, Capcom's success story revolved around introducing super-hero and animé gimmicks into their arcade titles, so you had visually striking characters with flashy costumes, unrealistically proportioned skills and powers, and all other sorts of assorted features that made the whole experience very comic-booky, such as calling out special moves, dramatic animation pauses, et al. So it only makes sense that the X-Men mutant universe would fit the standard Capcom fighting game engine like a glove, Right? And indeed it does, but the game introduces a series of improvements that would turn fights into even more outlandish and over-the-top, yet wildly entertaining experiences. For starters the game plays considerably faster, with faster animations and a penchant for chain-combos that turn fights into literal fist-storms. The play area has been considerably enlarged, with an even higher vertical area that becomes accessible with the brand new super jumps and which introduce dramatic aerial fights to the mix, as characters kind of float up there and can dish out more hits than previously available (not to mention that some characters go as far as being able to fly!), forward and backward dashes are also thrown into the mix (complete with animé-like speed lines) so before you know it you and your opponent are zipping through the screen at incredible speeds while duking it out and unleashing your super-powers. And boy are those powers "super"! Capcom really went all out when translating the comic booky super-powers to the pixellated screen, and the result ended with incredible screen-shaking powers that obliterate anything you previously thought possible when you thought about super moves in these kind of games. I still remember the first time I saw Cyclop's Optic Blast: He crosses his arms around his eyes, charges up power and then WhammO!! A gigantic ray that takes up the entire screen shoots forth from his eyes!!! And that's just the begining! Iceman fills the screen with ice shards, Storm shoots lightning in every direction, Magneto releases a gigantic almost-unscapable shockwave, etc. etc. Every time a character charges up for a super you know you are in trouble, and considering most characters have 2 and some 3 different supers with wildly different effects (Wolverine can for instance heal himself, while Psylocke can chase you around the screen with her Psy-blade) things can get really entertaining whenever you unleash one of these babies. Of course, the supers are substantially rare ocurrences that depend on a power-bar filling up to be available, so what about the regular moves? Players will also be overjoyed to find out that the game also takes that to the extreme with equally outlandish powers like teleporting around, creating duplicates of oneself, syphoning an opponent's health and replenishing your own, as well as becoming invisible, flying, and the biggest collection of over-the-top projectile attacks to date, with Iceman being able to call a giant block of ice on top of you, Storm throwing mini-tornados and Cyclops even having a projectile attack as his high-punch button! That's right! While in other games you had to perform complicated moves to release a fireball, in here you just have to press a button to get it done! That pretty much describes the game in a nutshell, don't you think?
More touches like that including multi-layered and rapid scrolling backgrounds (that even break at the bottom into other gameplay areas a-la Mortal Kombat 3) make for a wildly entertaining hyperkinetic fighting game that puts the emphasis in big flashy action and rapid-fire gameplay that calls upon all your action-gaming experience in order to defeat the entire cast of X-Men heroes and villains and get to the final showdown with Magneto himself, and thankfully the entire experience was flawlessly translated to the pc, mantaining all the crisp and detailed animation, lovingly hand-drawn sprites (alpha-like) as well as the lightning fast gameplay and the big-ass sprite effects for the supers, so good in fact that I dare say that this is the first really amazing Super-hero game to grace the PC in a loong time.

The Bad
Regardless of the non-existant conversion issues, this is a pretty barebones release in every account. You just have a Single and Vs game modes and a group of measly options that allow minimal speed and difficulty adjustments.
Due to the super-hero angle it seems that Capcom took a note from SNK when creating the bosses (Juggernaut and Magneto) and thus they became mega-cheap, super powered freaks that are more frustrating than anything to fight against, with Magneto alone being the worst offender ever for a Capcom game as he flies around making the screen explode with his assorted powers and generally kicking your ass by doing everything EXCEPT actually fighting you.
Also on a way more nerdy note, while the game makes the right choice of drawing mainly from the Chris Claremont / Jim Lee X-Men era (arguably the finest moment for the X-Men comics), the character rooster has some inconsistencies, I mean Silver Samurai and the Mojo Babe?? What the hell are those guys doing here? Where's Sabretooth? Gambit? Mr. Sinister? Cable? Rogue?? While they got it right for the most part there are some rather puzzling omitions (though most would be adressed in the next Marvel/Capcom games)...

The Bottom Line
Capcom proves that above all they REALLY know their shit when it comes to making 2D fighters, and thus they embark on the quest to craft the most over-the-top fighters the world has ever seen with this first Marvel title that becomes another staple of the genre and gets perfectly ported to the PC. Considering it's the only one of the Capcom/Marvel titles to make it to the PC it's a no brainer really, but regardless of that it's a superbly solid beat 'em up from the kings of the genre fit for every action gamer to enjoy.
DOS · by Zovni (10504) · 2004
Trivia
Included as a secret character is Akuma, one of the baddies of the Street Fighter series. (an omen of the future Marvel/Capcom crossover games?)
Contribute
Are you familiar with this game? Help document and preserve this entry in video game history!