X-Men is a 1992 arcade game by Konami. It brings six of the famed mutants together in a battle to stop the master of magnetism, Magneto, from taking over the world once and for all, while saving the life of Professor X in the process.
The side-scrolling beat 'em up allows up to six players in online co-op to play as Wolverine, Storm, Colossus, Cyclops, Nightcrawler or Dazzler. Over the course of various levels enemies both familiar to the Marvel comic book series and unique to the game itself will try to stop the X-Men, from the deadly robotic Sentinels to the likes of the Juggernaut, the Blob, and Mystique. If they survive Magneto's various minions they'll eventually face a showdown with the man himself.
This release includes both the 6-player (widescreen) and 4-player (fullscreen) versions of the game as well as both the US and Japan versions. In the Japan version mutant power is used before health when using special moves, and, when playing with more than one player, enemies will drop health and mutant power replenishing items. In the US version mutant power and health is only replenished by defeating bosses or continuing, but after defeating Magneto it's possible to continue playing on a second loop.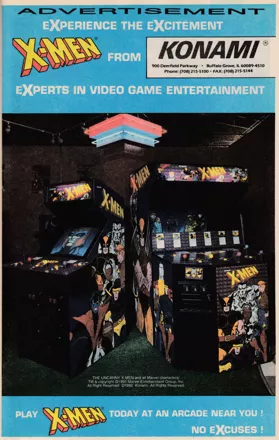 Credits (Arcade version)
14 People (13 developers, 1 thanks)
Trivia
Visual direction
The game's artwork and animation are clearly influenced by, X-Men: Pryde of the X-Men (commonly known as Pryde of the X-Men). This was a 1989 television pilot for an X-Men animated series that never materialized.
Contribute
Know about this game? Add your expertise to help preserve this entry in video game history!