Dynasty Warriors: Gundam 2
aka: Gundam Musou 2
Like the previous title this game brings traditional Dynasty Warriors hack'n'slash gameplay to the Gundam franchise. This iteration includes a greatly expanded selection of playable Mobile Suits, now including grunt units like Zaku and Jegan, as well as additional playable characters from the Gundam series War in the Pocket, F91, V Gundam, Turn A Gundam, Gundam SEED, and Gundam SEED Destiny. Another addition are fights against colossal size mobile suits such as the Byg-Zam and Psyco Gundam.
As in the previous game, Original Mode recounts the events of Mobile Suit Gundam, Zeta Gundam, Double Zeta, and Char's Counterattack from the perspective of each series' protagonist through a series of levels and text interludes. Mission Mode allows the player to select any pilot in the game. Allies and enemies will be made based on who the player chooses to engage in combat, eventually becoming trusted friends or bitter rivals. Each pilot has a series of short story missions in Mission Mode that are mostly based on events from their native series, but altered or expanded to make use of the additional characters in the game. Nearly every Official and Mission Mode level can be played in co-operative mode, and there are also competitive modes (both online and off) that pit players against each other in a race to complete objectives or score kills.
Pilots grow more powerful as they defeat foes, and they learn new skills from the Mobile Suit they use in combat. A Mobile Suit's stats are derived from its torso and four limbs, each of which can be replaced with better parts by destroying that model MS in combat.
Besides the variety of game modes and missions there is also a comprehensive library containing information on all Mobile Suits, battleships, and characters in the game.
Spellings
ガンダム無双2 - Japanese spelling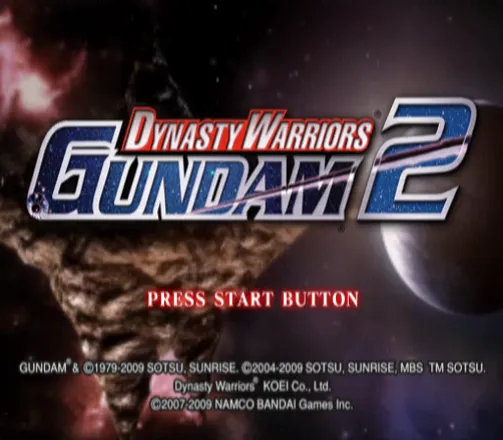 Credits (PlayStation 2 version)
243 People (232 developers, 11 thanks) · View all
Amuro Ray
Apolly Bay
Astonaige Medoz
Athrun Zala
Beecha Oleg
Bright Noa
Cecily Fairchild
Chan Agi
Char Aznable/Quattro Bajeena
Crown
Domon Kasshu
Dozle Zabi
Dunkel Cooper
Elle Vianno
Elpeo Puru
Emma Sheen
Fa Yuiry
Four Murasame
Fraw Bow
Gaia
Glemy Toto
Gym Ghingham
Gyunei Guss
Haman Karn
Haro
[ full credits ]
Contribute
Know about this game? Add your expertise to help preserve this entry in video game history!