Pool of Radiance: Ruins of Myth Drannor
aka: Black Adder, Pool of Radiance 2, Pool of Radiance II, Pool of Radiance: As Ruínas de Myth Drannor, Pool of Radiance: Ruiny Myth Drannor
An homage to the DOS-based Advanced Dungeons & Dragons Gold Box game Pool of Radiance, Pool of Radiance: Ruins of Myth Drannor returns again to the worlds of the Forgotten Realms.
Although the game begins in the city of Phlan, which was reclaimed in the previous game, the majority of the action takes place beneath Myth Drannor, once a beautiful city of peace, where men, elves, and dwarves could live in peace and harmony, which is now in ruins.
Despite its visual similarity to contemporary games that utilized real-time combat (such as Baldur's Gate), the game features a strictly turn-based system, similar to those implemented in Gold Box games. Orisons and Cantrips, straight from the then new Dungeons & Dragons 3rd Edition rules, have been added. The game features new character classes and races such as Barbarians, Monks, Paladins, and Half-Orcs. Clerics and Sorcerers can cast over 100 spells. The Dungeon Master communicates all important findings and events throughout the game.
Spellings
光芒之池II之剑与魔法的传说 - Simplified Chinese spelling
光芒之池:迷斯卓諾遺跡 - Traditional Chinese spelling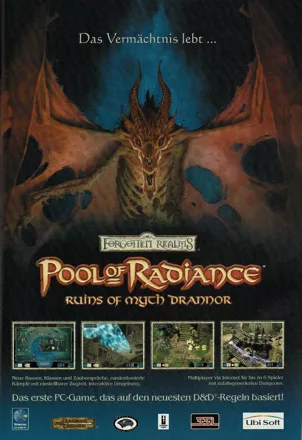 Credits (Windows version)
208 People (160 developers, 48 thanks) · View all
Game Design
Special Effects & Interface
Multiplayer Engine & Gameplay
Graphics Engine
Animation Engine
Gameplay Engine
Pathfinding & Collision Systems
Dialogue Engine
Interface Engine
Tools
Additional Programming
[ full credits ]
Trivia
Bugs
The first US version of this game was a technical disaster: not only that the installer accepted no other drives than C: - one could live with that although it's a sign of sloppy programming - the uninstallation program would accidentally erase some core components of Windows 9x, rendering the system unusable after rebooting. Because of this, the game was withdrawn and re-released with a fixed installer. This delayed the German version too.
Cover
Both the game box artwork and the cover illustration of the tie-in novel are by renowned fantasy illustrator (Gerald) Brom.
Inspiration
The game follows a November 1, 2000-published novel of the same name by Carrie Bebris, both the computer game and the novel sharing a common source of a pen & paper RPG module from Wizards of the Coast.
Awards
Computer Gaming World

April 2002 (Issue #213) – Coaster of the Year
Information also contributed by Entorphane and Pseudo_Intellectual.
Contribute
Know about this game? Add your expertise to help preserve this entry in video game history!