Sonic: Unleashed
Moby ID: 52589
Description
During a battle with Sonic (in Super Sonic form), Dr.Eggman uses his new weapon and manages to trap Sonic. He then drains the power of the Chao Emeralds from Super Sonic and use the power to create a blast strong enough to shatter the Earth into pieces. Seeing that Sonic is now useless to him, he jettisons him and quickly gets away. When Sonic wakes up, he finds a little creature who apparently has lost his memory. Sonic calls him "Chip" and promises to get his memory back. What Eggman doesn't know is that the ray also gives Sonic the ability to turn into a beast called "Werehog" at night. With this ability and Chip's guidance, Sonic must travel around the world to stop Dr.Eggman, find shrines that fixes the Emeralds, and defeat Dark Gaia - a beast unleashed from Eggman's new weapon...
Players take control of either Sonic or Werehog in each level, battling enemies and collecting rings or other items while trying to reach the goal. A level can take place at day or night (or both). During the day, players play as Sonic, and when night comes, Sonic turns into Werehog. Sonic and Werehog have different abilities and weaknesses: Sonic is faster but weaker, whereas Werehog is stronger but slower. The day levels and night levels have been suitably designed for both Sonic and Werehog, so you have to make the best use of their abilities. There is an energy gauge enabling Sonic and Werehog to use special attacks, which can be recharged by collecting items or fighting enemies. Rings are the only things that keep Sonic alive. Sonic will lose a certain number of rings if he touches an enemy. Doing so can kill Sonic immediately if he has no rings left.
The game's graphics are in 2D. Players' process is automatically saved when completing each level. Every three levels form a "zone".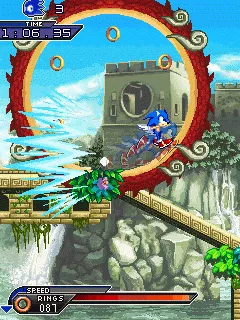 Credits (J2ME version)
57 People · View all
Executive producers
Producer
Lead Artist
Creative Director
Game Design
Graphics
Programming
Sound Director
Sound Designer
Localization Manager
Localization
Producers
Producer
Game Designer Leaders
[ full credits ]
Critics
Average score: 79% (based on 3 ratings)
Contribute
Are you familiar with this game? Help document and preserve this entry in video game history!
Contributors to this Entry
Game added by Tien Thuy Le Nguyen.
Game added September 16th, 2011. Last modified February 22nd, 2023.