EcoQuest: The Search for Cetus
aka: EcoQuest 1: The Search for Cetus, EcoQuest: Die Suche nach Cetus, Le Secret de la Cité Engloutie
Moby ID: 584
In EcoQuest: The Search for Cetus, the player is cast into the role of Adam, the twelve-year-old son of the famous ecologist Noah Greene. One day, his father rescues a dolphin from an abandoned fish net. As Adam becomes more friendly with the creature, he is amazed to discover that the dolphin can talk! Adam finds out that his new friend is Delphineus, the messenger of the whale king Cetus. As a qualified scuba diver, Adam is chosen to venture into the underwater kingdom of animals known as Eluria, and help its inhabitants.
The game's interface and basic gameplay are similar to those of other Sierra adventures: the player interacts with the environment by selecting icons that represent verb commands ("Look", "Talk", "Use", etc.) and applying them to objects or characters. Compared to most other adventure games by the same company, the difficulty level is lower, with the intention of making the game more suitable for younger players; for instance, it is impossible to "die" or get irrevocably stuck in the game.
Despite its supernatural elements, EcoQuest contains educational material. The inhabitants of the deep sea are realistically depicted, and there is plenty of information concerning their life habits, environment, and the threats posed to them by human beings.
Spellings
הרפתקאה במצולות - Hebrew spelling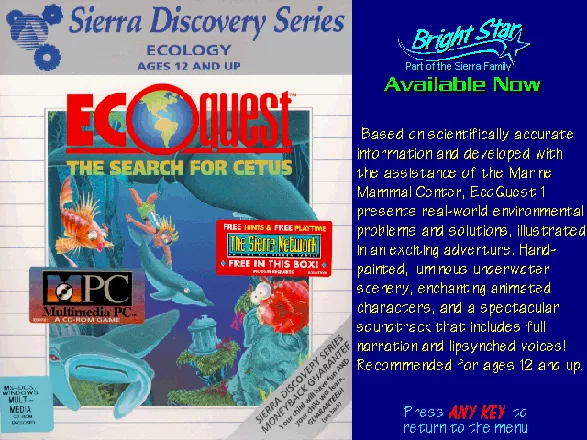 Credits (DOS version)
96 People (81 developers, 15 thanks) · View all
Design
Lead Programming
Programming
Interpreter / Development System
Graphics / Artwork
[ full credits ]
Critics
Average score: 72% (based on 14 ratings)
Players
Average score: 3.8 out of 5 (based on 47 ratings with 5 reviews)
Remember those Saturday-morning cartoons?

The Good
Sierra takes their years of adventure-game experience -- arguably some of the best in the business -- and applies its familiar formula to an educational game for the kids. They've even put some of Sierra's big name developers behind this game, like designer Jane Jensen (of the Gabriel Knight series), and programmer Scott Murphy (of Space Quest). What does that spell? F-U-N. It is most definitely an adventure game, cut from the same classic mold that Sierra's famous for. However, it's a simplified adventure, and it's considerably shorter than most adventure games, but that's perfectly fine for a kid with a short attention span who wants to be entertained, not be frustrated by impossible puzzles.
Educationally, the game does its job well. It presents the story of an ecologically-damaged coral reef, which not only teaches some basic marine biology but also instills ecological concern, a good subject you want your children to be aware of early in life. So Adam (that's the main character) is faced with the periodic task of keeping an eye out for trash and cleaning up the mess (who wouldn't want to teach their kids how to do that?) but also, as you're swimming around in the ocean, click on a fish or a plant and you'll be greeted with a short, educational encyclopedia entry-like blurb. The entire game is riddled with such real-life information, so there's plenty of factual trivia for children to learn.
There's even some in-jokes tossed in for the adult player, so they're not being completely ignored if they're playing the game with their kids. Look for a reference to the ghost pirate LeChuck from Lucasart's Monkey Island series. It's a good thing Sierra learned that lesson that made Animaniacs so popular with adults -- give them something to laugh at, it's not just all for little kids. Like those old Saturday-morning cartoons, there is a way to appeal to both kids and adults and even teach a little something in the process.

The Bad
Well, if you're used to exercising your brain in thought-taxing puzzle monsters like Monkey Island, you might be let down by this game's simplicity. While there's really nothing to hate, EcoQuest isn't going to be something that you can necessarily become obsessed about. You could very easily sit down, start playing, and finish the game two hours later. Don't look for challenge in this game, unless you happen to be eight years old.

The Bottom Line
If this were the early 1990's, I'd recommend parents to buy EcoQuest for their kids because it strikes a wonderful and working compromise between fun and education, which rarely go hand in hand in most considerations of the genre. But kids today won't be too impressed with EcoQuest anymore, which makes this a nice, and briefly enjoyable, collectible for the classic Sierra enthusiast.
DOS · by SAGA_ (952) · 2023
One of the best adventure games ever made.

The Good
The Search for Cetus is one of my favorite games, adventure or otherwise. It is a long, satisfying and beautiful game, a masterpiece of good writing, excellent artwork and amazing composition.
First of all, the game itself is one of the best adventure games I ever played. Although it's ecology-oriented, it makes an excellent play either way. Cleverly desgined gameplay and marvellous storyline make this one a true classic. The characters are well-developed and unique, and the way the game develops is simply a must-learn for every game designer. The graphics are simply spectacular - beautifully drawn images of under the sea flaura and fauna, amazing landscapes and everything is in lighted, shaded and living 256 colour graphics, one of the best in any adventure game. The music is what makes this game the amazing game it is: an amazing piece which sounds incredible on any sound device there is (and especially on a Yamaha XG synth), music which I listen to to this day.

The Bad
Nothing - it's one of the best adventure games I ever played!

The Bottom Line
An amazing, incredible game you just can't miss. Truly spectacular.
DOS · by Tomer Gabel (4539) · 1999
An exceptional game, that manages to combine education, humor, fun and an incredible sense of wonder.

The Good
The strength of this game comes from the synergy of great music, strong story, beautiful graphics, educational information and a sense of wonder I have rarely encountered in any computer game. The game, at first glance, seems common and naive - a lonely child befriends speaking animals and saves their home. But as you play the game you discover that this is not what the game is about (well, of course it is but that's not the point of the game). The point of the game is exploration of the rich coral reef biosphere, as Adam identifies each and every organism you look at. You will come to appreciate the damage being caused by human civilization to coral reefs and the undersea environment. And you will learn how to prevent some of these damages, and how can some of them be solved. The game does not embellish the truth: some of the ecological damages caused by humans can not be restored by Adam, and can never be restored. But the game will expose you to some possible solutions currently in research. The music fits in perfectly with the game and the plot, changing from scene to scene to fit the surroundings and the plot. Sometimes the change is drastic, some times imperceptible, but it will always be the right thing. The graphics is colorful and varied - reflecting nicely and accurately the animal and plant diversity of coral reefs. Just looking at the scenes will teach you something.

The Bad

Some of the background scenes seems like they were drawn on paper and then scanned - sometimes resluting in ugly areas of flat colors. I thing some more postprocessing would have benefited the graphics much.
For a game that is generally accurate and obviously based on a lot of reserach, I am surprised that the developers "forgot" that dolphins don't have eyebrows. Sure, it makes Del more humanlike, but it looks ridiculous!
The ending. It is probably the only ending it could have, especially when you are talking about a game designed primarily for kids - but it left me wanting more closure.
**The Bottom Line**
A fun, informative game, that manages to teach you without being didactic even a bit. Recommended to kids, and all people young at heart.
DOS · by Mickey Gabel (332) · 2000
Trivia
CD-ROM version
After the disk release, Sierra decided to re-release this game on CD. The CD version featured full speech.
References
When looking at the PC at the beginning of the game in the office, there's is a picture of King's Quest V.
Information also contributed by Ju, just Ju...
Contribute
Are you familiar with this game? Help document and preserve this entry in video game history!