Archipelagos is a real-time puzzle and strategy game with an unconventional premise and equally unconventional gameplay.
In the future, man carelessly poisons the earth with nuclear waste. The polar ice caps have melted, turning the surface of the earth into many islands of decaying land masses, known as Archipelagos. Man then built systems to try to clean up the pollution, but these failed. The only life left were genetically-altered plants made in an effort to clean up the waste -- these also turned hostile. It is up to you to clean up the earth, island by island.
Controlling a hoversphere, it is up to you to make Earth's many islands of land habitable. To do this, you need to knock out the radiation generators on each island, which can be done by knocking out each generator's power sources (there are several per island). Once these are knocked out, you have 90 seconds to get back to the generator and disable it before it melts down, taking you with it.
Obstacles, unfortunately for you, are plentiful: You can't knock out a power source unless it is connected by a "land bridge" to the generator. You have the ability to create land where needed, but this takes up energy, and you have a limited supply. Also a hindrance are the many genetically-altered entities left behind on the islands: Viral trees that poison the ground; necromancers (former hoverspheres) that now erode land instead of creating it; eco eggs that explode on touch; and aircleaners, who are ruthlessly efficient in cleaning up the air -- and everything else, including you.
The entire game plays from a 3D first-person viewpoint. A movable cursor selects where to move or what to manipulate.
There are 10,000 islands on Earth to purify. If you can make it past Archipelago #100, you are then free to select any of them.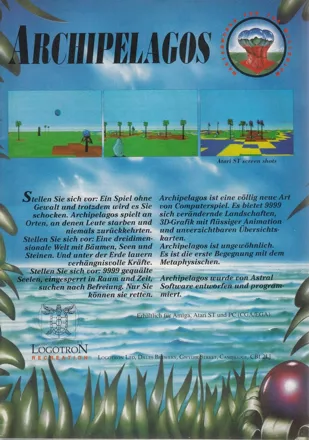 Credits (DOS version)
9 People (8 developers, 1 thanks)
| | |
| --- | --- |
| Programmed by | |
| All graphics by | |
| Testing | |
| Cover Artwork by | |
| Documentation by | |
| Story by | |
| Many thanks for his help on this project to | |
| Localisation | |
| Music Copyright (1989) by | |
Trivia
Graphics
The 3-D graphical representation of the game world is completely unnecessary: All gameplay mechanics are handled on a flat 2-D plane. The 3-D representation is just graphical eye-candy.
Levels
The first 100 levels of Archipelagos were hand-created by the developers and have land and elements strategically placed. Every 5 of those first 100 levels are designed in a recognizable shape (the world, England, Mickey Mouse, a pig, the company logo, etc.) Every island after #100, however, is randomly generated using that island's number as a seed. Although the island gets generated randomly, it is the same island every time because the seed is the same every time, so each level on its own will always be the same.
Looking at the overhead map view, the randomly-generated islands after #100 appear to be "drawn" using a mixture of circles and rectangles; randomly-wandering "squiggly" lines are used both as land and an absence of land.
Localization
The premise of the original European release of Archipelagos is quite different than the USA release: The islands are supposedly occupied by petrified "souls of the ancients", and under control by aliens. To beat the alien obelisk, the player needs to free all the souls from the stones by destroying them. The trees infecting the land are supposedly infecting the land with the "blood of the ancients".
The gameplay is 100% identical -- it just has a different premise. This is yet another example of American "marketing localization": Changing the game slightly to be more appealing to American audiences. Another example of marketing localization can be found in the differences between the Captain Blood European and USA releases.
Technology
The programing was ahead of its time for PC games: Even on an 8086, it displayed 3/4 full-screen solid-filled 3-D graphics (no vectors) at a decent clip, usually at 5fps or higher. It also runs in 384K of RAM (only 256K if running in CGA). Finally, the internal game calculations are done on a timer, and screen updates on EGA and VGA-based video modes are limited by screen retrace; this allows the game to run on modern machines without the need of slowdown programs.
With such efficient code, the manual doesn't list any system requirements for the PC -- the game runs on nearly every PC ever produced.
Awards
Amiga Power

May 1991 (Issue #00) - #55 in the "All Time Top 100 Amiga Games"

ST Format

May 1990 (Issue #10) - Included in the list "ST Format's 30 Kick-Ass Classics"
Contribute
Know about this game? Add your expertise to help preserve this entry in video game history!
Contributors to this Entry
Game added by Trixter.
Atari ST, Amiga added by Martin Smith.
Additional contributors: Patrick Bregger, Jo ST.
Game added March 27th, 2002. Last modified February 22nd, 2023.